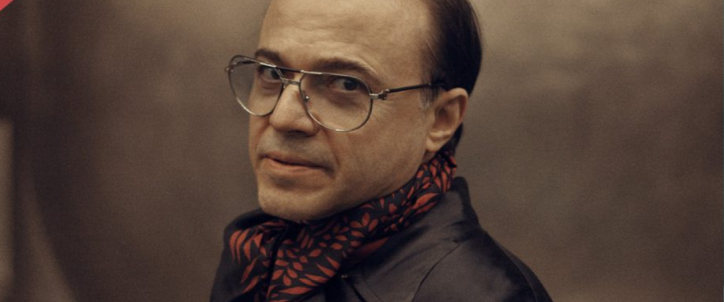 Bertrand Burgalat | ¡Nuevo álbum y una playlist exclusiva para What The France!
Recientemente comparado por el Times con "un Phil Spector francés con menos tendencias asesinas", Bertrand Burgalat es un músico, compositor y productor francés activo desde 1987. Ocho años después fundó su propio sello, Tricatel, dedicado totalmente a esos artistas inclasificables, a proyectos extraordinarios y a compositores como André Popp o David Whitaker.
Durante su carrera ha trabajado en más de 200 álbumes, componiendo y arreglado para Supergrass, Pizzicato Five, Marc Lavoine, PJ Proby, Jad Wio, Christophe Willem, Laibach, Neubauten, Alain Chamfort, Adamo, Mick Harvey e incluso con Depeche Mode. Como intérprete ha lanzado seis álbumes de estudio. En el cine firmó las bandas sonoras de varias películas de Pascal Bonitzer, Eva Ionesco, Benoit Forgeard, Cyril Collard, Bertrand Tavernier o Marc Fitoussi. En 2012 recibió el premio a la mejor música para películas en el Festival de La Ciotat, por "My Little Princess". Al año siguiente fue elegido como Compositor del Año, además de recibir el Premio a la Creación Musical de la Chambre syndicale des éditeurs de musique. Para televisión produjo "Le Ben & Bertie Show", una ficción musical transmitida en Paris Première y en radio, el programa "Face B" en France Inter. Fue vicepresidente de la junta directiva del Syndicat National de l'Edition Phonographique (SNEP) desde 2014, de la que ahora es presidente desde 2020. Su nuevo álbum Rêve Capital fue lanzado el 11 de junio, donde se puede escuchar la canción homónima en nuestra playlist "Pardon my song", así como el remix de Yuksek del tema "L'homme idéal" en nuestra playlist "Oui Love – Music Made in France".
A pesar de su apretada agenda, Bertrand Burgalat ha encontrado tiempo para confeccionar una playlist exclusiva para What The France, donde podrá (re)descubrir algunas de sus muchas producciones para su sello Tricatel, con canciones de Chassol, Catastrophe, Philippe Katerine, Moderato, Hervé Bouetard, April March, Louis Philippe, Michel Houellebecq, Allegra, Ladytron, Les Shades, Valérie Lemercier, Count Indigo, Etienne Charry, AS Dragon, Comateens, Showgirls, La Classe, Joel Daydé, Ingrid Caven, Symphony y de Jef Barbara.
Curators
A Made In France Selection By Bertrand Burgalat
Discover a made in France selection handpicked by Bertrand Burgalat @ Bertrand Burgalat
Escuchar