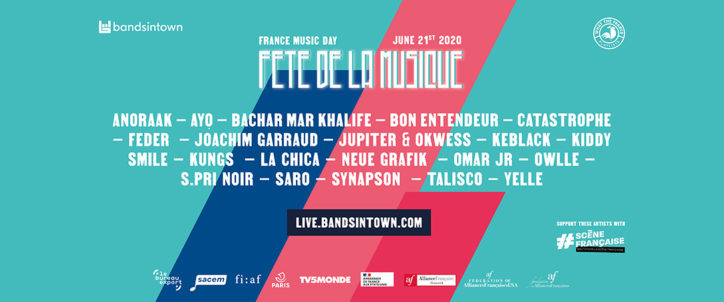 El Día de la Música | Un concierto "made in France" en vivo en Bandsintown LIVE
What The France, Bandsintown y Sacem planean una edición especial de la Fête de la Musique del 21 de junio para resaltar la diversidad y riqueza de la #SceneFrancaise para una audiencia internacional. AYỌ, Kungs, Kiddy Smile junto a Yelle, Talisco y Catastrophe tocarán en vivo en live.bandsintown.com. El evento reunirá a veinte artistas de todo tipo: jazz, soul, pop, house y hip hop…
Fue en Francia donde nació el festival Fête de la Musique, ya establecido en todo el mundo. El 21 de junio de 1982, los músicos salieron a las calles de París para tocar durante la primera Fête de la Musique. El evento, a menudo llamado "Día de la Música", se ha convertido en una tradición mundial a lo largo de los años, y finalmente se extendió a 120 países, donde artistas de diferentes niveles y estilos transforman el espacio público en un mundo musical. El espíritu democrático y alegre de unirse para hacer música o disfrutarla permanece intacto, incluso cuando las espectáculos musicales enfrentan desafíos sin precedentes.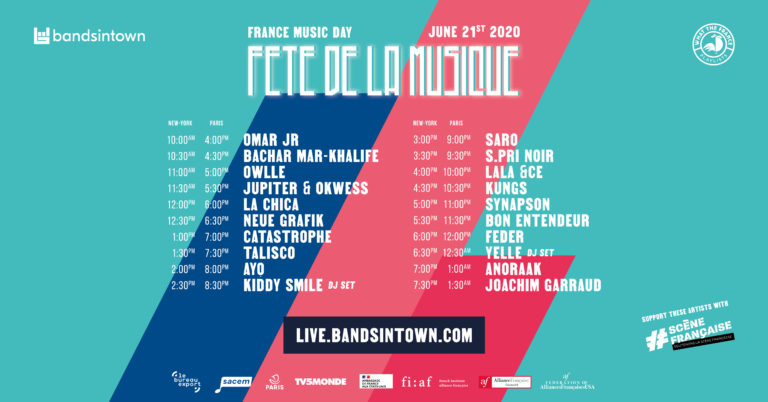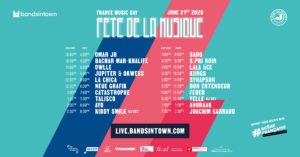 La programación completa :
Events
Fête De La Musique – France Music Day 2020
A selection of made in France tracks from the artists featured in the Fête de la musique.
Escuchar