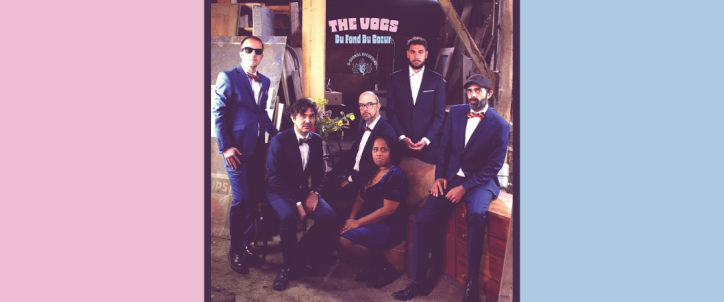 The Vogs | ¡Un nuevo álbum en camino!
Du fond du cœur es el nuevo álbum del grupo francés The Vogs , que presenta 10 nuevas canciones que contunúan la herencia del soul francés de los años sesenta, y que se interpretan en gran parte en francés.
En las nueve versiones vocales de este álbum, la sinceridad del yéyé francés se combina con el auténtico soul con un sonido de garaje para evocar los altibajos del amor, a la vez que empodera el "girl power" en la canción "Les filles aussi". En la adaptación francesa del clásico de Supremes, "You keep me hangin on", la voz de Nadia Hassani se apoya en jadeos acompañados por sonidos metálicos. El tempo acelerado expresa bien la frustración de un amor unilateral. El ritmo disminuye un poco en "Pour que tu ne m'oublies pas", un simple que evoca recuerdos del Southern Soul al estilo de Willie Mitchell.
En "Faire le premier pas" exploran los caminitos trillados del rhythm'n'blues francés con acento salvaje, inspirados en grupos como The Animals o Spencer Davis Group. "Ouvre ton cœur" es un buen ejemplo de una pieza intensa en francés con coros dignos de la escudeía Motown o del grupo de chicas francesas Les Princesses. En las dos canciones cantadas en inglés, el grupo retoma la herencia del Northern Soul con la enérgica "The Light", mientras que en "I wanna tell you" revelan un acento ligeramente psicodélico, ya que se trata de un cover del clásico de Qsounds. La canción pop "Faire semblant" y la instrumental "No Maracas" completan el álbum para convertirlo en una obra de soul francés moderno que continúa hábilmente con la tradición del género.
¡El álbum estará disponible desde el 24 de febrero!