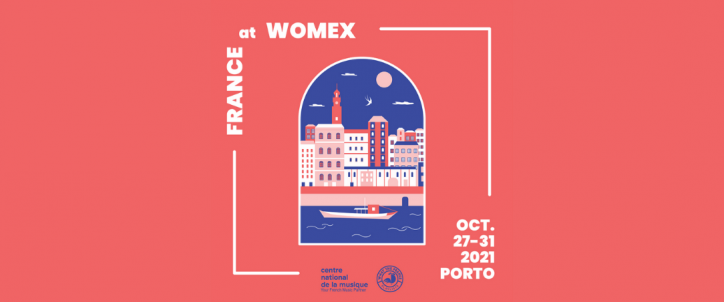 WOMEX 21 | a playlist !
A Womex Worldwide Music Expo  é o maior evento mundial do comércio musical e realiza-se este ano no Porto, Portugal, durante de cinco dias. É a maior conferência para a cena musical mundial, com uma feira, conferências, filmes e showcases.
Mais de 2.500 profissionais (incluindo 260 artistas) de 90 países reúnem-se todos os anos em Outubro, fazendo da Womex não só a plataforma de rede da indústria musical líder mundial, mas também o mais diversificado encontro de música do mundo. O seu espectro musical é inigualável no mercado internacional do entretenimento, desde o mais tradicional ao mais recente vanguardismo, abrangendo o folclore, o jazz, as culturas locais e da diáspora, bem como os sons urbanos e electrónicos de todo o mundo.
Durante os cinco dias do Womex no Porto, são esperados mais de 260 artistas de todos os continentes, cerca de 520 labels e distribuidores, quatrocentas instituições governamentais e educativas, 800 agentes, mais de 610 gestores e 300 produtores, aos quais se juntam cerca de 1.250 empresas de mais de 50 países. Womex inclui também 7 palcos, cerca de 700 empresas expositoras, mais de 100 oradores, filmes, um concerto de abertura e uma cerimónia de entrega de prémios.
O Womex pretende apoiar e reforçar o papel da cultura em todo o mundo e divulgar os seus valores, encorajando e promovendo a criatividade e a arte.
Esta nova edição no Porto será importante para a reorganização do mundo da música na era pós-Covid-19, onde tudo se desmanchou. O evento deverá reactivar os contactos, olhar para o futuro e reavivar as carreiras dos artistas.
As duas últimas edições do Womex tiveram lugar respectivamente em 2020, em Budapeste (Hungria) e em 2019, em Tampere (Finlândia).
Descubra os 12 artistas "made in France" apresentados nos concertos do Womex no Porto através da nossa playlist What The France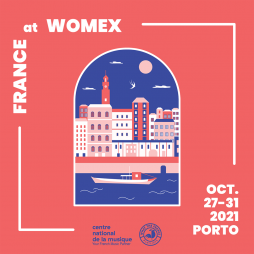 Events
France @ Womex 2021
The Womex is an international event dedicated to world music, held from from October 27...
Ouvir agora
La Perla (Colombie), booking Vuelta Music
Lova Lova (RDC/France), booking Mad Minute Music
Scúru Fitchádu (Cap Vert/Portugal), booking Wax Booking
Lucas Santtana (Brésil), booking Tour Makers / label No Format !
Lúcia de Carvalho (Angola/France), booking Zamora Productions / label Zamora Label
Cimafunk (Cuba), booking Caramba/Planet'A
Ghetto Kumbé (Colombie), booking Dérapage Prod
Manou Gallo (Côte d'Ivoire/Belgique), booking Blue Line
Pongo (Angola/Portugal) booking Ausblick Live – Toolbox Booking / label Capitaine Plouf
Naïssam Jalal & Rhythms of Resistance (Syrie/France), booking Tour'n'sol / label Les couleurs du son
Asna (Côte d'Ivoire/Senegal/France), label Blanc Manioc
Atine (Iran / Palestine / France)