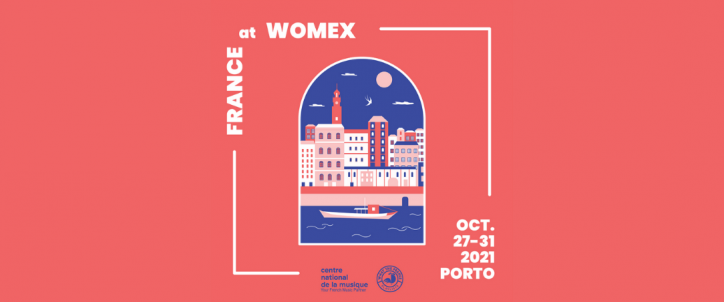 WOMEX 21 | La playlist !
Le Womex Worldwide Music Expo est le grand événement professionnel des musiques du monde et se déroule cette année à Porto au Portugal, pendant cinq jours. C'est la plus grande conférence de la scène musicale mondiale, avec un salon professionnel, des conférences, des films et des showcases.
Plus de 2 500 professionnels (dont 260 artistes interprètes) en provenance de 90 pays se réunissent chaque année au mois d'octobre, ce qui fait du Womex non seulement la première plateforme de mise en réseau de l'industrie musicale mondiale, mais aussi la rencontre musicale la plus diversifiée au monde. Son spectre musical est inégalé sur le marché international des spectacles, allant du plus traditionnel aux dernières nouveautés d'avant-garde, embrassant le folk, le jazz, les cultures locales et de la diaspora autant que les sons urbains et électroniques du monde entier.
Pendant les cinq jours du Womex à Porto, plus de 260 artistes de tous les continents sont attendus, environ 520 Labels et distributeurs, quatre cents institutions gouvernementales et éducatives, 800 agents, plus de 610 managers et 300 producteurs, rejoints par environ 1 250 entreprises de plus de 50 pays. Le Womex c'est aussi 7 scènes, environ 700 entreprises exposantes, plus de 100 intervenants, des films, un concert d'ouverture et une cérémonie de remise des prix.
Le Womex a pour objectif de soutenir et de renforcer le rôle de la culture dans le monde entier et de diffuser ses valeurs en encourageant et en faisant la promotion de la créativité et de l'art.
Cette nouvelle édition à Porto, sera importante pour la réorganisation du monde de la musique dans l'ère post-Covid-19, où tout s'est écroulé. L'événement doit permettre de réactiver les contacts, de se projeter dans l'avenir et de relancer les carrières des artistes.
Les  deux dernières éditions du Womex ont eu lieu respectivement en 2020, à Budapest (Hongrie) et en 2019, à Tampere (Finlande).
Découvrez les 12 artistes « made in France » présentés dans les concerts du Womex à Porto à travers notre playlist What The France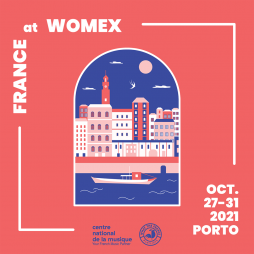 Events
France @ Womex 2021
The Womex is an international event dedicated to world music, held from from October 27...
Ecouter
La Perla (Colombie), booking Vuelta Music
Lova Lova (RDC/France), booking Mad Minute Music
Scúru Fitchádu (Cap Vert/Portugal), booking Wax Booking
Lucas Santtana (Brésil), booking Tour Makers / label No Format !
Lúcia de Carvalho (Angola/France), booking Zamora Productions / label Zamora Label
Cimafunk (Cuba), booking Caramba/Planet'A
Ghetto Kumbé (Colombie), booking Dérapage Prod
Manou Gallo (Côte d'Ivoire/Belgique), booking Blue Line
Pongo (Angola/Portugal) booking Ausblick Live – Toolbox Booking / label Capitaine Plouf
Naïssam Jalal & Rhythms of Resistance (Syrie/France), booking Tour'n'sol / label Les couleurs du son
Asna (Côte d'Ivoire/Senegal/France), label Blanc Manioc
Atine (Iran / Palestine / France), Booking et label : Accords Croisés