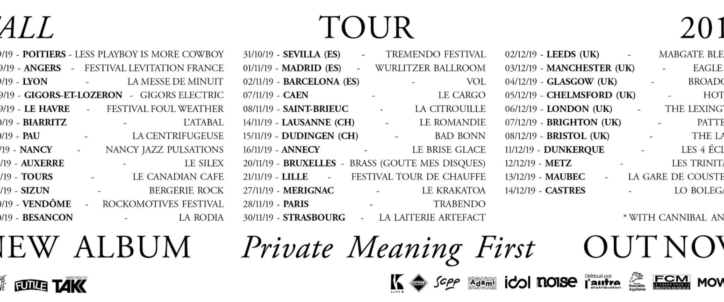 The Psychotic Monks | Les dates de la tournée
The Psychotic Monks est un groupe composé de 4 membres. En perpétuelle découverte, ils nourrissent une révolte qui prend forme sur scène, à travers la musique.
Du quasi chuchotement au cri, The Psychotic Monks évoluent à travers un psychédélisme noir, un chaos autant réfléchit qu'incontrôlable. Influencés par la scène « noise » (Sonic Youth, The Birthday Party, Pere Ubu…), canalisés par une intensité brute qu'ils tirent des Stooges, on leur reconnaît également un lyrisme plus profondément marqué par des groupes tels que Joy Division, The Doors ou Pink Floyd.
Le premier album, Silence Slowly And Madly Shines sort en avril 2017, suivi par une tournée à travers la France et l'étranger (Angleterre, Italie, Belgique…). Cette fois, c'est avec leur nouvel album Private Meaning First que le groupe se lance dans un tour d'Europe !
Les dates de la tournée