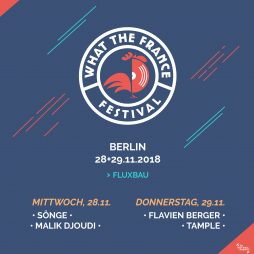 Events
What The France Festival – Berlin 2018
Discover a selection of songs from the artists of the 'What The France Festival' 2018.
Listen now
We have partnered with FluxFM Berlin to provide you with the finest music made in France live!
Next November, What the France Festival (formerly known as Chic Schnack Festival) comes back to Berlin. FluxBau will host two nights of liveshows from Wednesday, 28 to Thursday, 29 November.
Expect a first night full of reverie with Sônge and Malik Djoudi. Second night will make you go on sonic adventures with Flavien Berger and Tamples. 
Sônge
Hailing from Paris, Sônge is the vanguard of the Parisian electro-pop scene. Sônge builts up a very unique atmosphere with oniric compositions.
She truly is a must-see for anyone liking M.I.A. and Santigold!
Malik Djoudi
Malik Djoudi turns French chanson into cinematographic art-pieces. Malik Djoudi has a strong experience composing for TV, advertising and cinema – no wonder he masters words like no one else. Make up your own mind by seeing live!
Flavien Berger
Flavien Berger writes stories through melodies. A modern tale-tellers playing with soundscape, he is always à Contre-Temps – sometimes late on deadlines, but most surely ahead of his time. Come and experience a time-travel concert!
Tample
Tample is the finest soundtrack for a modern road-trip – no wonder French carmaker Citroën has selected Tample's "Summer Light" to illustrate one of their latest global campaign. Jump on board!
Discover a selection of songs from the artists that will be performing at the What The France Festival in Berlin from November 28 to 29, 2018.