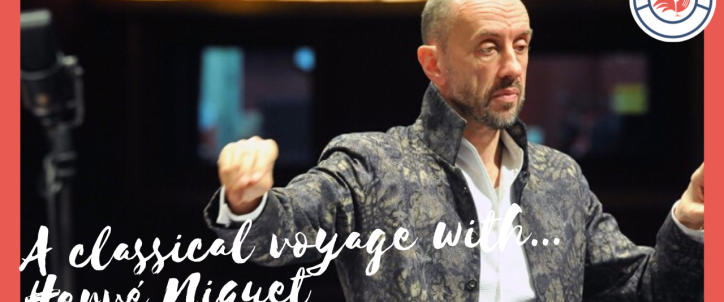 A classical voyage with… Hervé Niquet
In the latest episode of 'A classical voyage with…', What the France has another interview all about classical music for you, as we meet Hervé Niquet, a conductor who poetically champions both well-known and little-known pieces from French, British and Italian repertoires.
An interview with Hervé Niquet
In this exclusive interview, Niquet wholeheartedly shares with us his love of restoring French classical music to its former glory, as well as passionately telling stories from his various trips around the world, from the creation of the vocal and instrumental ensemble Le Concert Spirituel 35 years ago to the group's recent concert for Charles III, in which they performed 'God Save the King'. This episode is also a chance to find out the French film, book and food recommendations of one of the key figures in French classical music today.
Who is Hervé Niquet?
Hervé Niquet is a French organist, pianist, harpsichordist, composer and conductor. A specialist in France's classical repertoire, Niquet conducts his way through various time periods, ranging from the Baroque movement to Claude Debussy's Impressionist era via the grands motets of the 17th and 18th centuries. His love of the sacred style of those grands motets – which he began enthusiastically promoting at a very early point in his career, in between German cantatas and English 17th-century anthems – encouraged him to create his own ensemble in 1987, entitled Le Concert Spirituel. With over 120 records released in its 36-year existence so far, the group has established itself as a major advocate of France's musical heritage of yesteryear and is capable of performing famous works and original scores alike.
For several years now, Niquet has taken all manner of grands motets, operas, ballets and foreign pieces around the world, using his conductor's baton to convey his passion while working with the likes of the Orchestre de chambre de Paris, the Munich Radio Orchestra and Japan's Orchestra Ensemble Kanazawa. Having played a pioneering role in the discovery of certain works, in 2009, Niquet's spirit of exploration led him to create the Palazzeto Bru Zane, Venice's centre for French romantic music, with which he has since carried out numerous projects. Under his guidance, a whole host of landmark pieces have been rediscovered, including Félicien David's Herculanum, Victorin de Joncières's Dimitri, Marie Jaëll's La légende des ours and Fromental Halévy's La reine de Chypre.
Awards galore
Niquet has taken home honours including the Diapason d'Or, which rewarded his work showcasing Marin Marais's opera Ariane et Bacchius, as well as the 2021 Choc Classica for his recording of Reynaldo Hahn's L'île du rêve. In addition, the Abbéville native was recognised by the International Classical Music Awards in 2018, where he received the 'Recording of the Year' award, as well as by the International Opera Awards in the same year, alongside Véronique Gens in the 'Recording (Solo Recital)' category for the record Visions. Le Concert Spirituel has also recorded Mozart's and Antonio Salieri's Requiems on the Château de Versailles Spectacles label, which later led the group to perform at the Royal Chapel of Versailles in autumn 2022.
By getting involved in educational initiatives (be it with the Académie d'Ambronay, the Jeune Orchestre de l'Abbaye aux Dames, the Schola Cantorum, the Conservatoire de Lyon or McGill University in Montreal) as well as by giving conferences and masterclasses, Niquet is keeping a window open to some oft forgotten repertoires and works in order to reassert their worth.
While you wait for more 'A classical voyage with…' videos, why not listen to our Keep It Classique playlist to keep yourself up to date with the latest classical releases made in France?