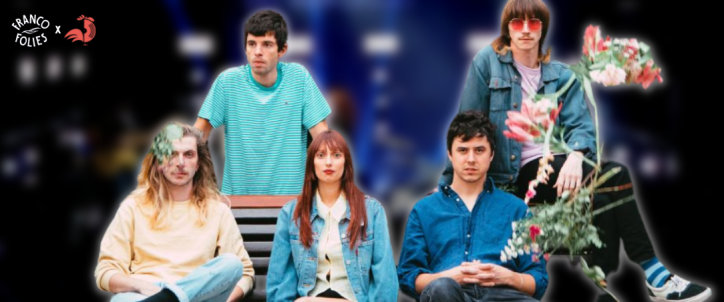 Ada Oda | What the France Live Shot
Ada Oda is "rock in Italian", full stop. While many would be tempted to call it post-punk, the multifaceted offering from the quintet that makes up Ada Oda could absolutely be described as rock. To coincide with their appearance at La Rochelle's Chantier des Francofolies festival, What the France went to meet the band to ask them a few questions about their experience of performing on stage.
Ready for a 'Live Shot' with Ada Oda?
Who are Ada Oda?
To tell the truth, Ada Oda was born on Tinder in 2020. The project later grew bigger in Brussels, but it was all initiated by César Laloux, who started out by making dozens and dozens of demos. After writing texts about troubled relationships, love affairs, disappointment and hope, he had a go at translating them into Italian and eventually got back in touch with his former Tinder match, Victoria Barracato, who understandably must have had a thing or two to contribute to the texts in Italian – and she did.
How do Ada Oda sound?
By sharing his demos with her, Laloux laid the foundations for a future project at the crossroads of 1980s rock and Italian pop. The voice of Ada Oda's future frontwoman was jarring, with her explosive intonations and sung parts giving plenty of soul to the project, but it needed to go further. The duo wasted no time in adding three more people to the band, with bassist Clément Marion, drummer Alex De Bueuger and second guitarist Aurélien Gainetdinoff accompanying them in the studio, at which point things began to move very quickly. With Ada Oda now sounding too clean and a far cry from the spirit of the demos, a more raw, more authentic and less artificial sound was in order; basically, they needed something far removed from the rock that was being played in Brussels.
The band ended up changing tack, opting for a much more explosive and primitive sound that set everything else in motion, as they then introduced themselves to the public by making two singles and an album available to fans of punk-inspired music everywhere. 2022 saw the release of these two debut singles – 'Niente Da Offrire' early in the year and 'Un Amore Debole' at the start of autumn – which truly represent the band's soul and full-throttle sound. Then, two months later, the group gave us its ten-track gem, Un Amore Debole, delivered by the powerful voice of Barracato, who sings in Italian with a slight French accent.
In short, this is a band on the up, with more and more appearances being pencilled in at festivals across France. If you haven't yet watched their interview in our latest Live Shot filmed at Le Chantier des Francofolies in La Rochelle, check them out now on our Playlist of the Month!