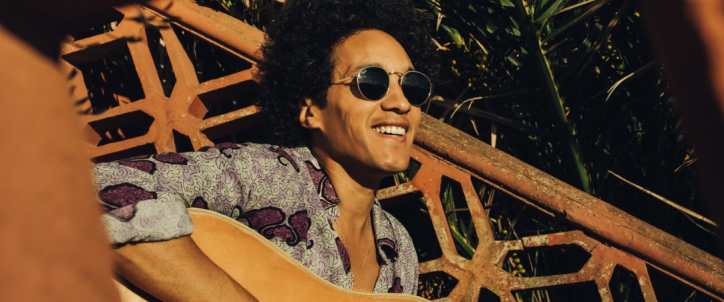 Anwar | New EP and exclusive What The France playlist! 
Anwar has unveiled a new EP called Follow Me on French label ThinkZik!. "Je suis un sentimental" ("I'm a sentimental guy") he tells us on his new release, ahead of a forthcoming second album. 
Born in Tetouan in Morocco in the 80s, Anwar grew up in Brussels, lived for a while in Malaga, studied economic science and had a number of different jobs before embarking on an artistic career – manufacturing fishing weights, running a cyber cafe and working for a cleaning company. But all the while he nurtured his musical interests, passions inherited from a father who loved Jimi Hendrix, James Brown and Creedence Clearwater Revival, until the real turning point came with The Fugees album The Score. It served as a guide, as he started to sing along with Lauryn Hill's vocal lines and then began trying to make rap music before joining a band that mixed rock with gnawa music. The latter enabled him to dig deeper into his own identity, which is at the crossroads of Berber, Arab and Sub-Saharan cultures. Another breakthrough came when he was invited by the singer Zaz to support her on tour. Released in 2016, his debut album was perfectly encapsulated by its title Beautiful Sunrise, with its melodies that have the purity of the first rays of sunshine.
Recorded in a Parisian studio and sung entirely in English, Follow Me is a new statement built on sounds that have illuminated classic pop for decades: guitars, keyboards and drums. With a sensibility derived from the blues, 'The One' celebrates love as an ideal and the condition for everything that happens in the world. 'Elizabeth' crystallises the memory of a relationship, while 'Lonely' explores solitude. Most of all, it is desire that animates the characters depicted on Follow Me, leading them from Casablanca to Zanzibar and on the cross-border journey of the title track.
While we wait for the release of his second album, Anwar has put together an exclusive What The France playlist featuring some of his 'Made in France' favourites from Noir Désir, Toko Blaze, Joe Bel, Patrick Coutin, Jehro, The Avener, Hindi Zahra, Charlie Winston, Norma, Louise Attaque, Cocoon, Medi, Ben L'Oncle Soul, Ayo, Claire Laffut, Yael Naim, Feu! Chatterton, Imany et Filatov & Karas, Thomas Kahn, Francis Cabrel, Saandia, Joe Dassin, Clara Luciani, Charles Pasi, Saule, Diva Faune, Claire Denamur and Nino Ferrer.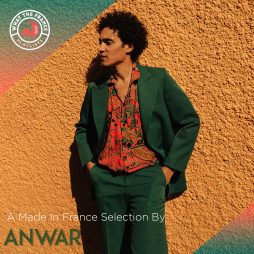 Curators
A Made In France Selection By Anwar
Listen to a selection of made in France tracks, carefully handpicked by Anwar.
Listen now