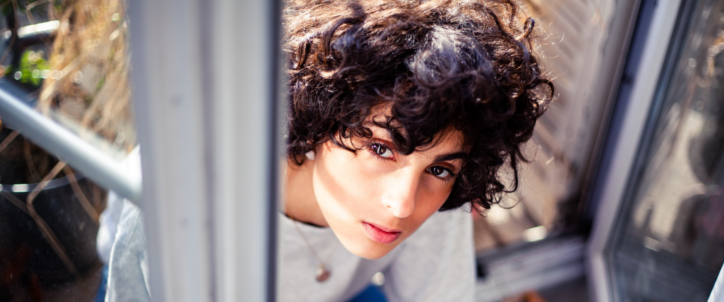 Barbara Pravi | The Eurovision singer gives us an exclusive playlist!
Barbara Piévic, better known as Barbara Pravi is a French singer-songwriter, born on 10th April 1993 in Paris.  In 2015 she was spotted and signed by French label Capitol Records. In 2016 she recorded 'On M'Appelle Heidi', the French version of the theme song for the Heidi film, and in the stage musical Un été 44 she sang songs by Charles Aznavour, Jean-Jacques Goldman and Maxime Le Forestier. The following year, she released her debut single 'Pas Grandir'  and an eponymous first EP. She was then the support act on a 23-date tour with French star Florent Pagny, including one performance at the Accor Hotels Arena in Paris in front of 19,000 people. In 2018 she collaborated with Calum Scott on a bilingual version of one of the British singer's biggest hits 'You Are The Reason'. Then in February 2020, he put out a new EP called 'Reviens Pour L'Hiver'.
Alongside her career as an artist, Pravi also regularly writes for other singers like ulie Zenatti, Chimène Badi, Yannick Noah and Jaden Smith, and – with the artist Igit – 'Bim Bam Toi' et 'J'Imagine', which were in competition at the Junior Eurovision Song Contest in 2019 and 2020 respectively. 'Bim Bam Toi', sung by Carla, finished fifth, while 'J'Imagine' – sung by Valentina – won in 2020. 'Bim Bam Toi' was then used millions of times on TikTok, leading to it being awarded the first ever TikTok D'Or.
In 2020 she took part in the programme 'Eurovision France, C'est Vous Qui Décidez' (Eurovision France, You Decide), looking for a French artist to represent the country in 2021. Pravi emerged the winner and is set to perform her song 'Voilà', written with Igit, on 22nd May in Rotterdam.
In anticipation of her Eurovision performance, we've asked Pravi to select an exclusive playlist for What The France, on which you'll find 'Voilà' of course, but also songs by Barbara, Dalida, Serge Gainsbourg, Michel Berger, Pomme, Klon, Les Rita Mitsouko, Claude Nougaro, Kalika, P.R2B, Noé Preszow, Fishbach, Ben Mazué and Yseult.
Curators
A Made In France Selection By Barbara Pravi
Discover a made in France selection handpicked by Barbara Pravi! Photo @ Barbara Pravi
Listen now