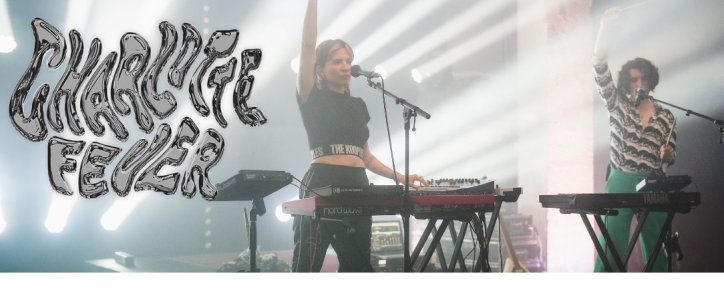 Charlotte Fever | Album, European gigs ahead
French pop duo Charlotte Fever haven't had their fill just yet – after several dates in France as well as in Estonia, Latvia, Andorra and Spain, the pair are set to play two gigs, one in Austria and the other in the Czech Republic, ahead of the release of their debut album.
Who are Charlotte Fever?
No matter the season, ever since Charlotte Fever hit the scene in 2018, they've given their fans a healthy dose of Vitamin D with every listen. Having put out three EPs and 15 singles already, their music, which conjures up imagery of palm trees, beautiful beaches and scorching heat, has made those long holiday drives under clear skies all the more enjoyable. In June, the duo comprised of Cassandra Hettinger and Alexandre Mielczarek presented their latest single, 'Plage Convexe', which uses all of the elements that continue to drive the band forward: the sun, the beach, heat, a groovy bassline and analogue synthesisers. In short, it's exactly what we've come to expect from the pair: a sun-drenched song that gives off tropical vibes.
These pop adventurers are no strangers to success now, either. For the last five years, they've been mastering the art of making the musical equivalent of a nice summer cocktail all year round. In fact, you've probably heard their music already without even realising it, as their singles 'JTM' and 'Kunigonde' have featured in the hit series Emily in Paris (Episodes 7 and 10 of Season 2), in addition to 'La Fille du Ciel' starring in a web advert for vodka brand Grey Goose.
Ahead of their gigs in Austria and the Czech Republic and before the release of their debut album via Riptide Records in November 2023, we here at What the France recommend stepping into the tropical world of Charlotte Fever on our Playlist of the Month.