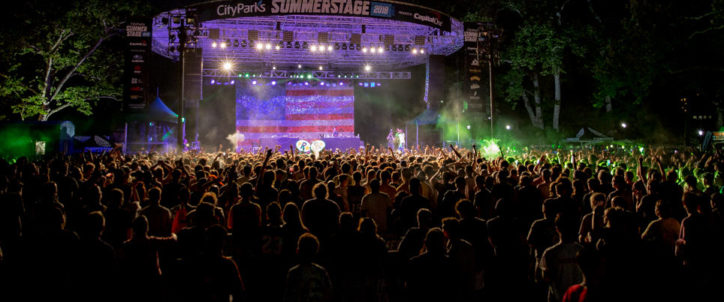 French Artists at Central Park SummerStage in NY
Capital One City Parks Foundation SummerStage presents a series of free concerts in Central Park in New York, featuring artists of all genres for diverse audiences.
For the fourth year, France Rocks Summer Fest and Central Park SummerStage have successfully united together, with four electric concerts of French bands.
The first concert night took place on June, 23rd to celebrate the french tradition of "La fête de la musique" (The music celebration).
Vendredi sur Mer, opened the celebration in front of an enthusiastic crowd, dancing on the airborne rythm and sound of the band.
For the second part of the night, the France Rocks Summer Fest had the honor to receive one of the most famous alternative rock band back in the 1990's; Les Négresses vertes. After a long break, the eight members were reunited for a magnificient come back on stage, in the middle of Central Park.
Blick Bassy was the third French artist to perform at SummerStage for the France Rocks Festival, on June, 30rd, spreading the West & Central African rhythms in Central Park, in front of a massive crowd.
Even if the France Rocks Summer Fest 2019 is done for this year, French artists are still going to perform in this amazing stage, such as Magic System! One of the songs of the famous zouglou band has been chosen to be the French team's anthem for the Football Men's World Cup.