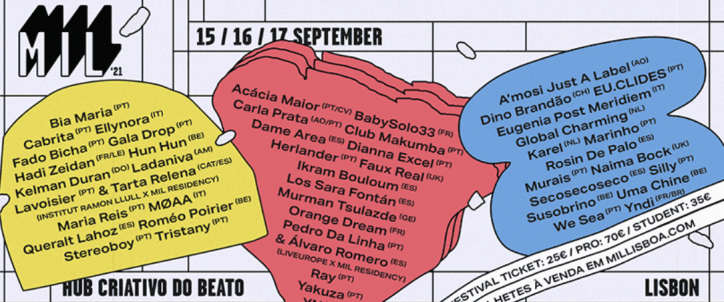 Festival MIL 2021 l 'Made in France' artists in Lisbon, 15th to 17th September 2021
Taking place in Lisbon in the Hub Criativo do Beato zone, MIL – Lisbon International Music Network –  2021  is a festival dedicated to the discovery and promotion of emerging international artists. Over three days, the festival offers concerts, conferences, debates, speed meetings and masterclasses.
The Hub Criativo do Beato is a centre of innovation and creativity recently set up on a former industrial site near the estuary of the Tagus river. Today, the space is opening up for over 3000 people from around the world who want to come and innovate, whether its individuals, established companies or start-ups.
Having gone under the radar for a long time, the Portuguese music scene is in the process of renewing itself and getting organised, while being enriched by Lusophone artists from Brazil or former colonies (Mozambique, Angola, Cap-Vert, Guinée-Bissau) for whom Portugal is a natural entry point to Europe.
As both a festival and a platform for professional networking, MIL anticipates future trends, invests in artists who fall outside established commercial criteria, and stimulates debate on the key questions that will determine the future of music and culture. Over three days, Lisbon becomes a meeting place for hundreds of artists and professionals from around the world, with a programme of concerts, training, debates and various opportunities to do business and exchange ideas.
The festival, which is open to the public, will once again be welcoming a number of 'Made in France' artists. It's a great opportunity to discover the creativity and innovation in the new French scene.
This edition of the festival features:
The full festival programme is here: https://millisboa.com/mil/programme/
and the line-up of acts can be found here: https://millisboa.com/mil/full-artistic-line-up-revealed/
Dates and times of shows will be available here shortly: https://millisboa.com/mil/lineup/