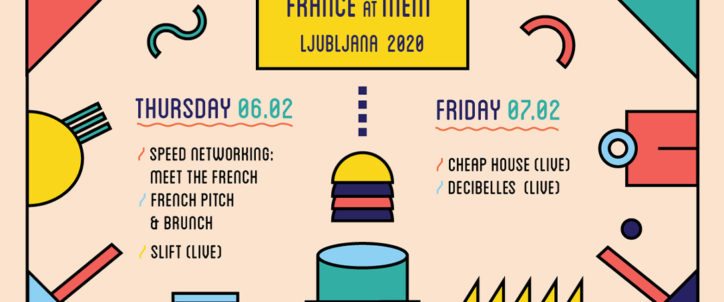 France at MENT Ljubljana | Three 'Made in France' artists, 6-7/02/20
MENT Ljubljana 2020
MENT Ljubljana is a three-day festival which presents 70 artists from all over Europe in different venues around Slovenia's capital. It's a riotous, exciting festival with a great line-up – if you're in the area, don't miss it!
Three 'Made in France' artists in the line-up
DECIBELLES (Deaf Rock)

The punk trio from Lyon let loose regularly with aggressive guitar riffs, brutal basslines and strident vocal harmonies, all sweetened by a strong grasp of pop dynamics. After three EPs and several years paying their dues on the European noise and punk scenes, the band hooked up with legendary producer and guru Steve Albini for their last album.
SLIFT (Vicious Circle / Jerkov)
Slift's sound is an irresistible force, carried by thunderous percussion and gnarly vocals and drawing on psychedelic and stoner rock. Its power is most obvious in their improvised moments, inspired by free jazz and krautrock, and intensified by kaleidoscopic visuals. This three-headed hydra first came to Ljubljana in early 2019, supporting Jon Spencer. Now they're ready to return and deliver on their fearsome promise.
Cheap House (Junior360)
This four-piece from Strasbourg was only formed in 2018, but they've evolved at an almost terrifying pace. Their musical roots extend to West Africa, Berlin nightlife and the new UK jazz scene of The Comet Is Coming and Sons of Kemet. They're explosive, wired and thrilling, embracing chaos and harnessing it through their magnificently, brutally efficient instrumental dance music.