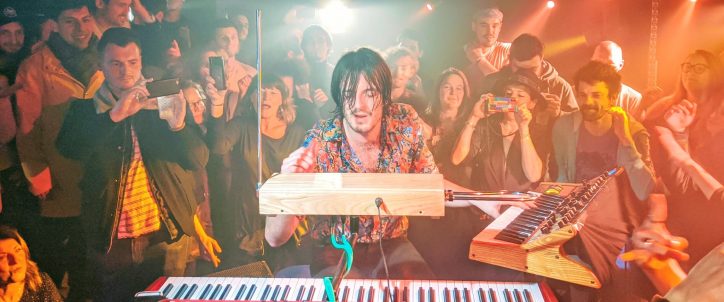 Mezerg | Live from the Institut Français in Barcelona
Having brought you a show from Praa on 15th April, live from Valencia in Spain in collaboration with the Institut Français, we now present remarkable multi-instrumentalist Mezerg, who will be performing today (Thursday 29th April) from the l'Institut français de Barcelone.
Mezerg is the talented creator of PianoBoomBoom, an intoxicating mix of piano and 4/4 beats, designed for clubs. He started making a name for himself a few years back with home-made videos where you could see him in action like a one-man orchestra, making electronic music from unexpected elements, with rhythms that ranged from funk to acid techno, improvising with keyboards, effects pedals and the theremin which has become emblematic of his project.
Using his hands and feet, Mezerg fuses electronic music with acoustic elements to create a new, organic sound. A kind of house music, this 'night music' tips its hat both to jazz bars and night clubs and doesn't hesitate to experiment with everyday sounds. His most recent album, Chez Mezerg, presents a great variety of songs including the single 'Roses', which is in our Playlist of the Month.
The concert will take place on Thursday 29th April on the Facebook page of Institut Français of Barcelona at 7pm CEST.
You can find the Facebook event here.