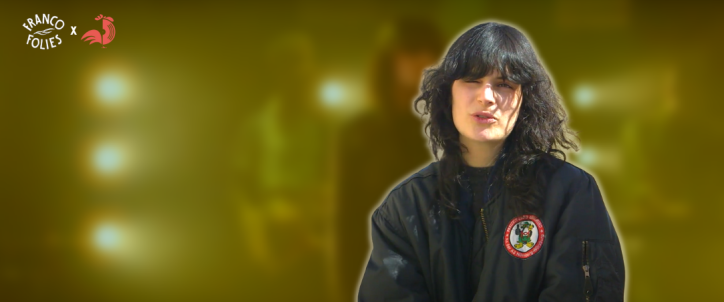 NINA | Live Shot What the France
To coincide with La Rochelle's Chantier des Francofolies festival, What the France went to meet the french singer NINA to ask her a few questions about her experience of performing on stage.
Ready for a 'Live Shot' with NINA ?
Who would have thought that you could begin a music career with an 'Adieu'? Yet, that's exactly how NINA, whose style is at the crossroads between Serge Gainsbourg and Clara Luciani, got herself up and running in the French music scene in 2022. With the Parisian artist fully capable of sitting at its top table alongside the likes of Juliette Armanet and November Ultra, her rise to fame was only a matter of time.
In fact, time was what allowed NINA to properly nurture her solo project, which represented a break from the duo that she was previously a part of, and 'Adieu', which is the title of both her debut single released in April 2022 and her debut EP, is the very sign of that break. It's a goodbye to her sidekick as well as to the person that she used to be, who wouldn't dare to speak up but who is now performing at a whole host of festivals. Two months later, in June 2022, the aforementioned EP – made up of five hypersensitive tracks and brimming with personal stories – was released.
After playing at Les Inrocks Festival and at MaMA Festival in Paris as well as at Bars en Trans in Rennes and at BISE Festival in Nantes (for which What the France conducted a series of Live Shot interviews), the french singer NINA, with her dark fringe and black jacket, joined the line-up for the 2023 Chantier des Francofolies, where fans got to hear her sombre, minimalist pop sung in French and embellished with 1980s synths. On Adieu, just like at her gigs, which are "a space to be free" in which she feels uninhibited, NINA tells her story – this is especially true on the track 'Elle', which allows her to present herself in the third person – as well as sharing a multitude of other tales that are just begging to be uncovered as soon as possible.
Check out her track 'Adieu' now on our Playlist of the Month !