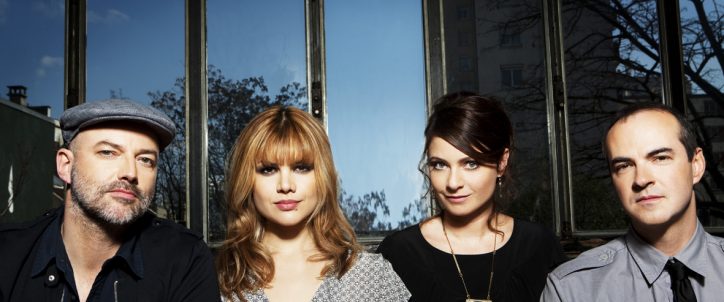 Nouvelle Vague | 15th anniversary of the band, two new albums and a giant tour
Parisian group Nouvelle Vague are celebrating their 15 years of existence and are back on the world stage with their first ever live album.
The Parisian collective, led by Marc Collin and Olivier Libaux, released their first album in 2004 at the peak of French Touch. Their concept followed a method as simple as it was surprising: Bossa Nova = New Wave = Nouvelle Vague. Punk and New Wave standards are reinterpreted in their dreamy style of 50s/60s Bossa Nova, with gorgeous arrangements and a lively array of guest singers. Quickly, Nouvelle Vague found success working with singers like Camille and Mélanie Pain.
Five albums and many tours later, Nouvelle Vague are celebrating their 15th anniversary this year. A documentary about their extraordinary project and and the singers that have participated in it, and two studio albums filled with rarities and curiosities from the archives of the group have been released.
With a minimalist line-up of singers (Mélanie Pain, Elodie Frégé and Phoebe Killdeer), acoustic guitar and keyboards, Nouvelle Vague are going back to their roots, stripping cult 80s classics down to their bare bones and displaying them in a brand new light.