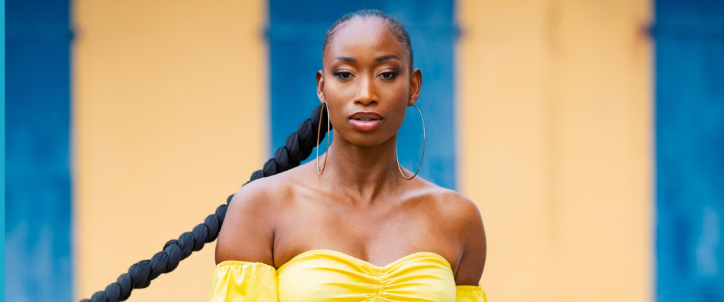 Saïna Manotte | New album and an exclusive playlist for What The France !
It was at the organ school in Guyana that Saïna Manotte fell in love with music. At five years of age she found her voice, while exploring and mastering the piano which, under her fingers, became her most faithful confidante. After passing her baccalauréat, she left Guyana to move to Paris where she obtained a Research Master's degree in musicology and performing arts. In 2017, she began writing in order to proclaim her attachment to her native country. A creole woman in her very nature, through her culture and by choice, she sings to tell the world who she is. After three years of work, during which she released a number of tracks and self-produced videos – including 'Poupée Kréyol' and 'Poupée Kréyol II' – Saïna Manotte signed with the premier label for Antillian music, Aztec Musique. Known today as an ambassador for Guyana, she always writes and performs with her heart. Her desire, her resilience and her hard work have made her an essential figure in the Guyanese music scene, having been awarded five 'Lindor' Guyanese music industry awards in the space of a few years and playing in-demand shows to Guyanese audiences. In 2019, Saïna Manotte also became the youngest Guyanese woman to receive a 'Woman of Culture' award.
Her first album on Aztec Musique, Ki moun mo sa, released in 2020, was very successful and led to her singing on TV channels Arte and France TV, as well as for Drépaction (the association that fights for greater awareness and prevention of sickle cell disease), and supporting the famed Dédé Saint-Prix, and representing Guyana on many other occasions. Saïna Manotte was also the first Guyanese singer selected for the MASA in Abidjan, the biggest arts fair in Africa.
After a Parisian show at the legendary New Morning venue and two sold-out performances at the Encre in Guyana, the young artist has released her second album Dibout, an ode to resilience. The strength and the capacity of man to stay on his feet in spite of the hostile winds, the love that keeps a family together in a crisis and the courage of people to dare to stand up to injustice are all celebrated in this audacious music. Still anchored in Guyanese culture, she mixes creole rhythms, pop music and urban styles. The Guyanese drum has pride of place, blending with electronic sounds, trap fills, zouk-like snares, Afro-Latino pianos and acoustic guitars. The lyrics, sung in creole and French, are poetically revelatory, with every word chosen for what it means but also for the way it sounds and vibrates. Music and words are linked, each one magnifying the other.
The first single taken from this new album is a duet with a popular Guadeloupian artist Misié Sadik, called 'Toujou Dibout'. The track, with its pop and dancehall vibes, subtly recalls the struggles of the Antillean-Guyanese peoples. The video was filmed in Guadeloupe and makes reference to current local struggles such as chlordécone exposure, protesters known as the 'collectif des 500 frères' and lack of access to water.
To coincide with the release of her new album in France, Saïna Manotte took the time to put together an exclusive playlist for What the France featuring some of her 'Made in France' favourites from Admiral T, Lizi, Misié Sadik, Mario Canonge & Erik Pedurand, Paille, Tabou Combo, Meryl, Malavoi, Giovann Juniel, LS & Stevy Mahy, Kassav', Chiktay, Barth, Zily, Staniski, Stacy, Beethova Obas, Ti Coco, Mata, T2i & Elzo Jamdong, Marijosé Alice, Keros-N, Warped, Haitian Troubadours, Warren & Joyce, Mizikopeyi & Franck Nicolas, Oswald, Saël, Antonny Drew, Poplane & Momo Wang, Mayo2Kaw, Warped et T Kimp Gee, DJ Fly and Paille & X-Man.
Curators
A made in France selection by Saïna Manotte
Listen to a selection of "made in France" tracks, carefully handpicked by Saïna Manotte
Listen now