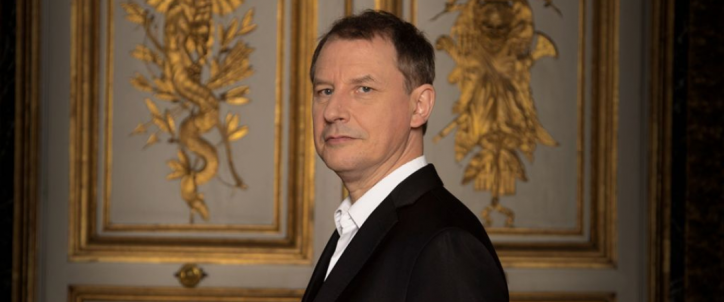 Stéphane Fuget | The harpsichordist, pianist and conductor of the Les Epopées ensemble creates a playlist for What The France
The French conductor and founder of the Ensemble Les Epopées, has taken up the challenge of creating a playlist for What The France.
Stéphane Fuget has concocted a playlist bringing together more than 30 of his favourite pieces played by French artists. It features compositions by Berlioz, Delibes, Rameau, Ravel, Schumann – and a few surprises. Performed by French musicians, some of the selections pay homage to his peers: Dominique Visse's Clément Janequin ensemble, Marcel Perez's Organum and Christophe Rousset's Les Talens Lyriques. There are also renowned international soloists of the past, like Russian opera singer Fédor Chaliapine, Yvette Guibert and Régine Crespin, alongside Roberto Alagna, soprano Claire Lefilliâtre, and Jean-Christophe Spinosi.
Fuget created Les Epopées in 2018, and they very quickly found their way onto the most prestigious stages. He is one of the most promising conductors in the field of baroque music, with his detailed attention to text. In residence at the Château de Versailles, Les Epopées recorded Lully's Grands Motets in their entirety for the CVS label, on four discs acclaimed by critics as a "renewal of baroque music." He is also in residence at the Festival de Beaune for the performance of all of Monteverdi's operas.
The most daring projects are still to come from Stéphane Fuget and his ensemble. A festival and an academy in Bourgogne, an international tour with Marie-Nicole Lemieux and the complete Monteverdi operas for the CVS label are all on the menu in the coming months.