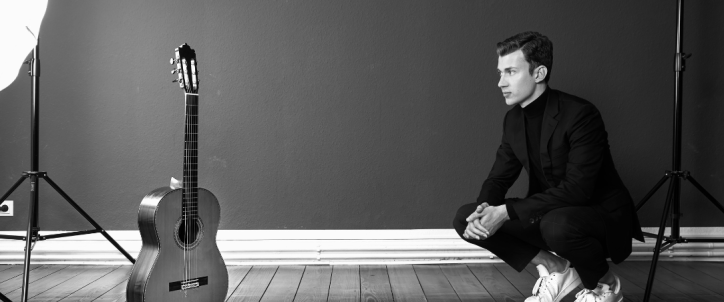 Thibaut Garcia | World tour
French-Spanish classical guitarist Thibaut Garcia developed a strong sensibility for the guitar from an early age thanks to his father, an amateur musician. For his seventh birthday in 2001, he was given his first classical guitar, which would later become his way of expressing his dual culture and that same sensibility. Through his six strings, Garcia's profile would take shape.
As he began to learn the guitar, Garcia asked his teacher to show him how to play the songs that his father knew off by heart, including pieces by Andrés Segovia and Joaquín Rodrigo, the composer of the famous Concierto de Aranjuez.
In his hometown, he joined the Conservatoire à Rayonnement Régional de Toulouse, where he earned his diploma in chamber music before going on to obtain another guitar diploma, this time with honours from a class led by Paul Ferret.
With these two qualifications secured, Garcia continued his classical training at the Conservatoire de Paris, where he was a student in Olivier Chassain's class. Alongside his studies, he took part in and won a variety of prestigious competitions, including the Anna Amalia Competition for Young Guitarists in Weimar and the International Guitar Competition in Seville. In 2015, Garcia came first in the Guitar Foundation of America Competition in Oklahoma, a victory that gave him the chance to complete his first-ever 50-date tour of the United States and Canada.
Thanks to his technique as well as the recognition of various competitions' judging panels, Garcia has performed at a multitude of guitar festivals in France and around the world, effortlessly playing in such large orchestras as the Baden-Baden Philharmonic, the Orchestre de chambre de Paris and the BBC's orchestras, which have taken him to such prestigious venues as the Konzerthaus in Vienna and the Tchaikovsky Concert Hall in Moscow.
Since his years as a student, Garcia has enjoyed multiple collaborations, playing chamber concerts and featuring in quartets with performers from the French music scene, including cellist Edgar Moreau and clarinettist Raphaël Sévère. His albums, released through label Erato / Warner Classics, bear testament to collaborations with orchestras as well as with guitarist Philippe Jaroussky, who features on Garcia's fourth album, À sa guitare, which came out in 2021.
In 2019, Garcia took home the title of 'Revelation' in the 'Instrumental Soloist' category at the Victoires de la Musique Classique.
On his world tour, the guitarist will travel through Japan, playing five shows in the space of a few days, before returning to Europe, where he will give performances at several concerts and festivals across Germany as well as in Spain and Switzerland.