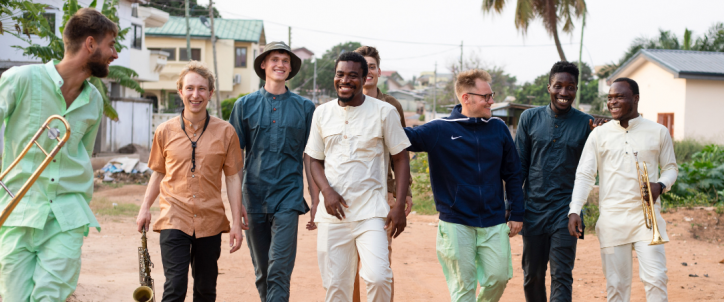 Total Hip Replacement | International Dates
The band Total Hip Replacement are touring in support of their new album Anyankofo, released on French label Z Production. 
Total Hip Replacement are a Danish band featuring seven musicians, and they're renowned for their dynamic, energetic live performances. A playful approach to organic grooves and electronic sounds characterises the project, which also features a warm brass section and synths that come together over funky rhythms. Total Hip Replacement want to send messages of hope, demonstrating that togetherness and solidarity can overcome cultural and social barriers.
A meeting between the musicians of Total Hip Replacement and Ghanaian highlife, reggae and gospel musicians has given birth to a new group featuring nine people that came together in Ghana in the winter of 2021. During the month-long session, they wrote and recorded a whole album together which was released in April under the name Anyankofo.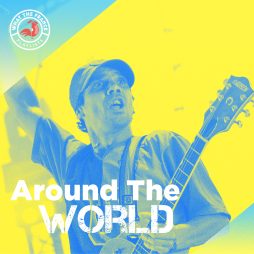 Genres
Around The World
Explore the latest world music hits made in France. Follow us for weekly updates !
Listen now
The album was recorded and produced in close collaboration with Kwame Yeboah (Pat Thomas & Kwashibu Area Band, Cat Stevens, Craig David) in his legendary Kwashibu studio in Ghana. Established and emerging stars of the Ghanaian musical scene, like the legendary Pat Thomas, rapper Worlasi, Grammy-nominated reggae artist Rocky Dawuni, rising soul-pop artist Asi Renie and top-quality musicians from the bands of Ebo Taylor, Kwashibu Area Band and Santrofi all took part in the project. The music brings together reggae, highlife, afrobeat, dub and pop in a future-facing musical fusion.
 Find all their dates on What The France!