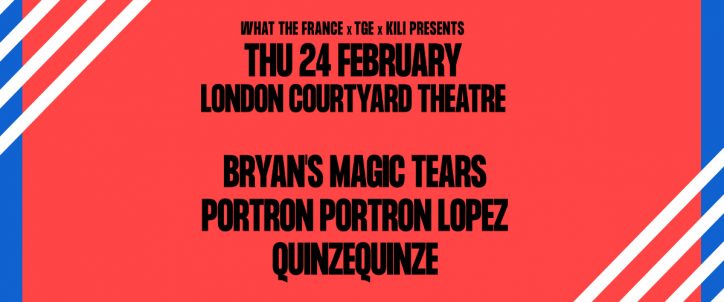 What The France x TGE x Kili Presents | New live event on 24th February 2022 in London
What The France, in partnership with promoters Kilimanjaro live and The Great Escape festival, are bringing you a unique showcase of emerging Made in France artists on 24th February in London.
The Great Escape, based in Brighton, is one of Europe's leading showcase festivals and every year features a number of 'Made in France' artists among its 400-odd acts. Ahead of the 2022 edition, running from 11th-14th May, The Great Escape team have picked three 'Made in France' acts which will be playing in May for this special preview show at the Courtyard Theatre.
Tickets are available here and the Facebook event 
The artists
Featuring former members of La Secte Du Futur and Marietta, Bryan's Magic Tears bring together toxic melodies and guitars that switch between whiplash and caress. They recall, in the best way, moth-eaten American bands on unreachable Midwestern labels that, in the mid-1990s, would drop choruses to make the Smashing Pumpkins green with envy.
Portron Portron Lopez are an instrumental psych rock trio formed in 2011 featuring twin guitarists and frenzied afrobeat drumming. Their forthcoming fourth album, due for release in in the spring of 2022, is called Ice Cream Soufi further demonstrates their unique knack for pairing instrumental prowess with offbeat vision.
QuinzeQuinze are Ennio, Julia, Marvin, Robin and Tsi Min started out in 2013 and their music blends R&B, hip-hop, experimental electronics and dancehall. The title of their forthcoming EP, Vārua, means soul or spirit in Tahitian and is deeply anchored in the Polynesian heritage (that two members of the band share) that gives the entire project its raison d'être.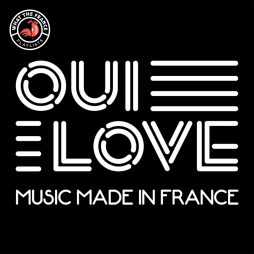 Partners
Oui Love – Music Made In France
This playlist celebrates the thrilling diversity of the current French music scene.
Listen now