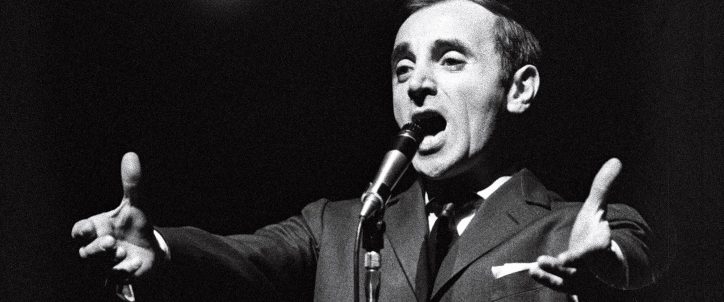 Who Sampled Aznavour ? The playlist !
True icon of French music, Charles Aznavour died at the age of 94 (05/22/1924 – 10/01/2018). With over 70 years of career and more than 1300 songs released, his music was known all over the world and inspired several artists. In addition to many covers and adaptations, he has also been one of the most sampled French singers by his compatriots but also internationally.
In 1999, the producer and American rapper Dr Dre isolated and slowed down a part of the rhythm of the single 'Parce que tu crois' originally released in 1996, to build his own hit 'What's the difference' with his acolytes Xzibit and Eminem. This same instrumental was also used by Sean Paul and Blue Cantrell for the single 'Breathe', Bitter Sweet did the same for 'Dirty Laundry'. The rappers Big John, ZPU, La Brigade and Fonky Family recycled the shiny 'Comme ils disent' to create their own hit songs.
Among those who have skilfully recycled the heritage of Charles Aznavour, we can also mention Passi, Ideal J, Sniper, Guizmo, Psy4 De La Rime, Roger Molls, Anno Domini Beats, Dope D.O.D or The Doppelgangaz. With our playlist 'Who Sampled Charles Aznavour', we offer you a chance to (re)discover a selection of his songs sampled by artists from all over the world. After each original song, you will find one or more songs created from it.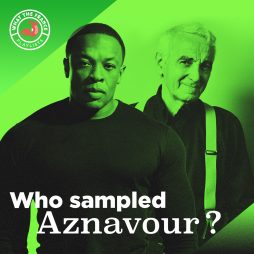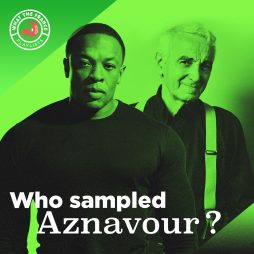 Themes
Who Sampled Aznavour ?
Discover a selection of Charles Aznavour songs that were sampled by artists worldwide.
Listen now