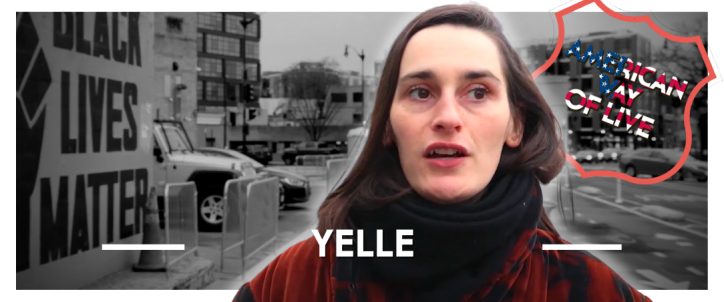 Yelle | American Way of Live
For the third and final interview of the "American Way of Live" series, What the France would like to take you on a walk with French artist Yelle (a.k.a. Julie Budet, the lead singer of the band that shares her stage name) as she prepares to take to the stage in Washington, D.C. for the first night of her group's sold-out US tour. We're certain that you'll already know a few tracks from their excellent back catalogue, as they've been an established name across the pond for some time now.
So, ready to experience the "American Way of Live"?
—Third stop—
Let What the France take you back to the American capital once again, with just a few hours to go until Yelle's gig at 9:30 Club!
An interview with Yelle
For this interview, we went to meet the Brittany native in the streets of Washington. Over the course of an incredibly early-morning stroll, the artist shared her day-to-day life with us before stepping onto the stage that evening to perform the exceptional opening date of her band's latest tour. Having spent two years waiting for the group to return to North American soil due to COVID, Yelle's fans finally got to see them again at this gig and hear new tracks like "Top Fan" as well as the brilliant tunes from their previous album, L'Ère du Verseau. In fact, certain members of the 9:30 Club audience had been happy to make the eight-hour journey down to Washington to get a first-hand experience of the artist's energy before anyone else in the country.
For almost two decades now, Yelle have been familiar to audiences on both sides of the Atlantic. The French dance-pop outfit have remained practically unchanged since 2005, the year when they first took to Myspace to share the track "Short Dick Cuizi", a direct attack on rap group TTC and their singer Cuizinier, known for his fairly misogynistic lyrics. The song was an immediate success, as it very quickly racked up over 125,000 plays on what was the number-one music platform at the time, and, after some slight lyrical adjustments and a title change (to "Je Veux Te Voir"), it became a top-five hit in France in 2006. The following year would see Yelle deliver their first big project, the Gold-certified album Pop Up.
If the name Yelle doesn't yet ring a bell (particularly as the band were initially called "YEL", an acronym of the phrase "You Enjoy Life", before feminising their name by adding "le" onto the end of it), there's a good chance that these two sentences will convince you that you've heard of them already: "Salut Yelle !", "Salut Christelle !". The group have indeed risen to fame through a variety of memorable collaborations, including the one with Fatal Bazooka (a.k.a. Michaël Youn) on the duet "Parle à ma main".
Having long performed as a symbiotic duo with Jean-François Perrier, Yelle (the artist) then added to her band by bringing in Tanguy Destable, better-known as Tepr, to give their pop music an even more electronic feel and to go as far as to push it towards hip-hop. Ever since the trio started feeding off singles, further albums have followed, including 2011's Safari Disco Club, 2014's Complètement fou and, most recently, 2020's L'Ère du Verseau. They may have abandoned their former acronym, but Yelle continue to help us enjoy life with their vibrant sound and consistently frank lyrics, as you can hear in our interview.
As the "American Way of Live" series comes to an end with this episode, we here at What the France will now be returning to Europe for more interviews with French artists from all walks of life!
While you wait for their upcoming concerts to be announced, why not give Yelle a listen now on our "Pop The Champagne" playlist?