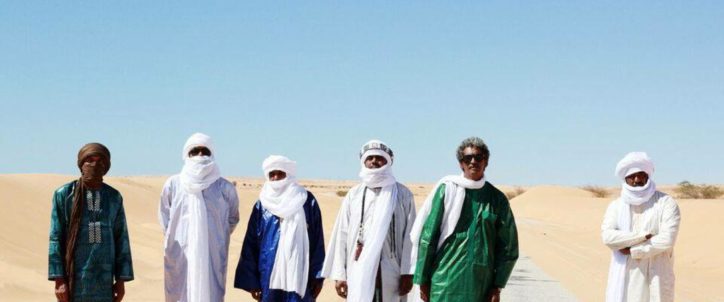 Tinariwen | A 9th Album and a World Tour
Tinariwen is a group of Tuareg musicians from the Sahara Desert region of northern Mali formed in 1979 by Ibrahim Ag Alhabib and composed by 9 actual members.
Since 2001 Tinariwen have toured regularly in Europe, North America, Japan, and Australia; often appearing at large world music/alternative festivals like Glastonbury, Coachella, Roskilde, Les Vieilles Charrues, WOMAD, FMM Sines, and Printemps de Bourges. Tinariwen gained more attention overseas in 2004, with their first UK performance at the largest free African music festival in the country, Africa Oye.
AN 9th ALBUM: AMADJAR
This nomadic album, recorded in a natural setting, is as close as you can get to the 'soul' of Tinariwen, a group of musicians that in every sense, exist far-beyond their 17-year tenure and extensive discography of critically acclaimed albums.
Amadjar will be release on 6th Septembre!
Discover the first extract of this album about witnessing the first solar eclipse : Zawal featuring Warren Ellis (violonist), Noura Mint Seymali and Jeiche Ould Chighaly.
A WORLD TOUR
The group has also announced their Fall Tour 2019, which spans from September to mid-November across the world, passing by USA, Canada, Sweden, Belgium, UK,…