Curator | A Made In France Selection By Ryan Downey
Ever wondered what Australian artists have to say about the French music scene? Look no further as Melbourne artist Ryan Downey gives his insight.
While it may seem niche, French music in Australia is very much alive and has influenced many Australian musicians; so says Ryan Downey. His latest album, 'A Ton of Colours', released on May 14th 2021, even features a song with a French title 'Sors de ma téte' – which he wrote while staying in a hotel in Paris in 2018!
Ryan Downey speaks about the origins of his love for French music on the What The France radio show. He recounts his exposure to French music from a young age through French film, and how his music taste has developed and influenced his own sound. From classic to unique, avant-garde French artists, Downey shares his French music selection with What The France.
LISTEN ON SPOTIFY
The release of his sophomore album 'A Ton of Colours' led to sold out shows all over Australia, but a European tour was out of reach due to Covid-19. The tour would have been his second time touring France, after supporting New Zealand artist Marlon Williams during the first tour, playing in Paris, Nantes and Bordeaux.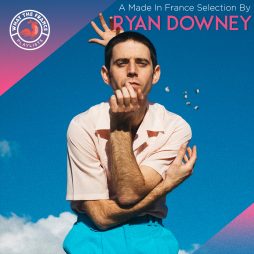 Curators
A Made In France Selection By Ryan Downey
Listen to a selection of "made in France" tracks, carefully handpicked by Ryan Downey.
Listen now