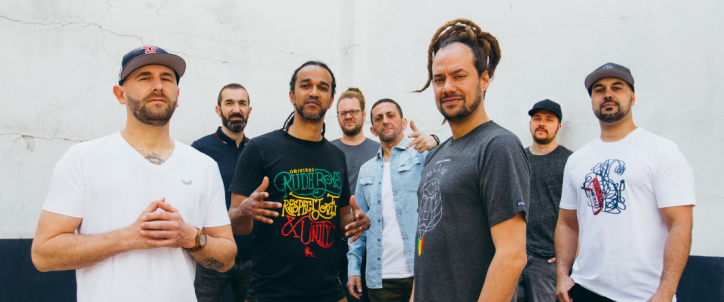 Dub Inc | A new album and an exclusive playlist for What The France!
Reggae sounds overlaid with electronic touches and Eastern harmonies delivered in their own unique way, political lyrics envisioning a future that those in power can't destroy, all wrapped up with a provocative album cover: all the ingredients that their many fans across the world have come to love are there again on the eighth album by French group Dub Inc, called Futur, which is out now. It follows in the footsteps of Millions, conceived during lockdown and informed by the experience of isolation, and sees the band transcend their fears about the future, turning them into a hope that people will stop fighting each other and build a world that is respectful to all.
On Futur, Dub Inc address the fundamental issues: the necessity of collective action, diversity, respect for the past and of different identities, the joy of being together. However the tone this time is more urgent. In the face of the climate disasters, geopolitical issues, and social problems are societies are facing, time is short and we can't wait any more: taking action, in whatever way we can, is not only possible but indispensable.
Without certainty but with conviction, without political clichés but just with words, Dub Inc confirm their place at the heart of reggae, aided on this album my a number of collaborators. With the help of Balik, the singer with the Danakil, on 'Nos Héros, the Saint-Étienne band pay homage to their antecedents and those that can be a source of inspiration for building a more unified future, in a present that lacks role models and inspiring figures. With their compatriot Taïro, on 'Il Est Temps', they call on us to take back control of our lives in the face of the system: "It's up to us to act, the blah-blah is over." With Algerians Democratoz on 'Mazal', Hakim contributes Kabyle lyrics which beautifully match the Eastern tone of his voice. And there's also a first duet, 'Bad Boy', with the most famous Italian expat in Jamaica, Alborosie, and another – 'People Of The World' – with the singer of Jamaican group Raging Fyah, Kumar. It's a list of collaborators that won't fail to resonate internationally.
After two long years away from their fans, and a summer season in which they renewed their acquaintance with stages in France and abroad, and with a tour lasting from the autumn until 2023, the Saint-Étienne band have delivered, on Futur, a breath of fresh air that can give audiences the power to confront the dark times we are currently facing. It's a statement that is marked by the maturity the group have acquired over the years.
Despite their packed diary, Dub Inc have found the time to compile an exclusive playlist for What The France, featuring some of their favourite 'Made in France' tracks by Taïro, KT Gorique, Naâman, Danakil, Lidiop, Nai-Jah, Volodia, L'Entourloop & Queen Omega & Lyricson & Red Fox, Mystical Faya, Fatbabs, Tiken Jah Fakoly, Gaël Faye, Tryo, Scars & Jahneration, Marcus Gad & Tamal and Ben L'Oncle Soul.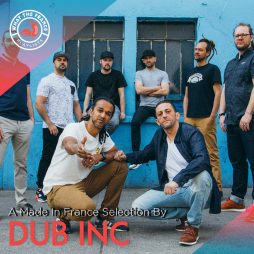 Curators
A Made In France Selection By Dub INC
Listen to a selection of "made in France" tracks, carefully handpicked by Dub INC.
Listen now