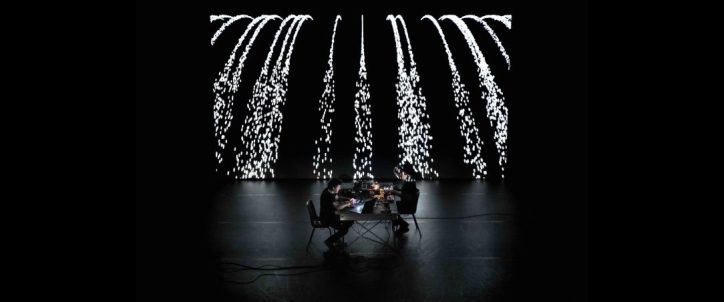 Franck Vigroux and Antoine Schmitt | 'Cascades' in Melbourne
Award-winning, multifaceted artists, Franck Vigroux and Antoine Schmitt are heading to Melbourne to perform Cascades, in partnership with Monash University Performing Arts Centres (MPAC) on Friday 10th March.
Cascades is an audio-visual project inspired by the concept of waterfalls, represented by flows of pixels in generative movement, meaning never the same. The music is directed through a similar concept, influenced by the movement and 'cascading' effect that can be seen and heard. The use of electronic instruments generates a continuous and almost meditative sound that is immutable – symbolic of a decade long collaboration between Vigroux and Schmitt. Cascades represents both infinite movement and stability, but also shows that catastrophes can happen. It is a synthetic artwork that can be interpreted as contemplative, reflective and is also a physical experience.
"​​Cascades is originally a series of generative video installations from Antoine. We have been collaborating for more than ten years but never on something so contemplative. I was very inspired to create music for his pixel waterfall; music and generative video are all performed live with our own instruments. Cascades premiered last year in Mexico City and this performance at Alexander Theatre is the Australian premiere." – Franck Vigroux
ABOUT THE ARTISTS
Antoine Schmitt presents the generative video in Cascades and is an award-winning installation artist. Schmitt creates artworks in the form of objects, installations and situations, addressing the process of movement in all modalities, and questioning the intrinsic conceptual problematics, of plastic, philosophical or social nature. Originally a programming engineer in human computer relations and AI, Schmitt places a contemporary artistic material, unique by its active quality, at the core of most of his artworks to reveal and literally manipulate the forces at stake. Schmitt has been awarded second prize at the transmediale festival in Berlin 2007, second prize at the Ars Electronica festival in Linz 2009, and first prize at UNESCO International Festival of Video-Dance in Paris 2022.

Franck Vigroux presents the live electronics in Cascades and is a multifaceted artist whose works range from experimental electronic music to modern composition and music theatre. Vigroux's music is made of tectonic tensions, beats, electronic textures, and a very personal approach to sonic exploration. He is equally prolific as a solo artist and as a collaborator. Vigroux's uniqueness comes from his artistic approach that integrates new media and performance arts. He designs transdisciplinary shows and audio-visual concerts.
Cie d'Autres Cordes: Cascades 
Friday 10 March, 7:30pm
Alexander Theatre, The Ian Potter Centre for Performing Arts
Bookings: https://www.monash.edu/performing-arts-centres/event/cascades/
$10 – $30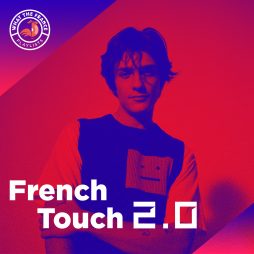 Genres
French Touch 2.0
Get your hands on the latest electronic music hits made in France.
Listen now