Guts | New album and exclusive What The France playlist!
French artist Guts' latest album is called Estrellas. After having started out as a writer and producer, he quickly made a name for himself as a beatmaker for artists like Alliance Ethnik, Big Red (Raggasonic) and Les Svinkels. In 2007, he embarked on a solo career with his album Le Bienheureux, before expanding his palette on Freedom, released on his own Pura Vida label. Moving to Ibiza, it was on the Balearic island that he produced the 2012 album Paradise For All, released on the label that is still his home: Heavenly Sweetness. From 2013 to 2017, with his accomplice Mambo, he concocted the Beach Diggin' compilations (of which there have been five to date). More releases followed including Hip Hop After All, Eternal and the Stop The Violence EP, as well as a new compilation series Straight From The Decks.
For his new album, Guts has called on 25 artists from three continents, for the most multi cultural album imaginable.Among the Cuban guests are prestigious names like pianist Cucurucho Valdés, nephew of Chucho, as well as four vocalists: singer and percussionist Brenda Navarrete, the Aretha Franklin of Cuban Santeria, Akemis Carrera, El Tipo Este – a well-know rapper from Havana – and José Padilla, an old master from Santiago de Cuba, not forgetting beatmaker, producer and multi-instrumentalist Kumar SublevaoBeat. On the African side, we have guitarist René Sowatche of the Orchestra Baobab, bassist Christian Obam, a horn section featuring musicians from Benin, Cameroon and Congo, as well as the voices of Assane Mboup and Alpha Dieng. The European delegation is also as rich in talent as it is varied: Mr Gib, David Walters, Florian Pellissier, Cyril Atef, Pat Kalla, Djeudjoah & Lieutenant Nicholson, Al Quetz, El Gato Negro and Arnold Moueza.
Always keen to share his passions, Guts took the time to put together a playlist for What The France featuring some of his Made in France favourites like Laurent Bardainne & Tigre d'Eau Douce, Kolinga, Pat Kalla & Le Super Mojo, DjeuhDjoah & Lieutenant Nicholson, Arnaud Dolmen & Moonlight Benjamin, Dowdelin, David Walters, The Bongo Hop & Nidia Gongora, Biga*Ranx, Star Feminine Band, Lass, Kham Meslien & Anthony Joseph, K.O.G & Gyedu-Blay Ambolley & Poirier, Voilaaa & Patchworks, Naâman & Losso Keita, Synapson & Oumou Sangaré, Brenda Navarrete,  Paulo Flores, Samba Peuzzi, Iss 814, El Tipo Est, The Dynamics and Floran Pellissier.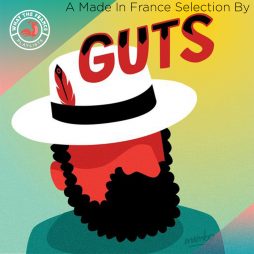 Curators
A Made In France Selection By Guts
Listen to a selection of made in France tracks, carefully handpicked by Guts.
Listen now