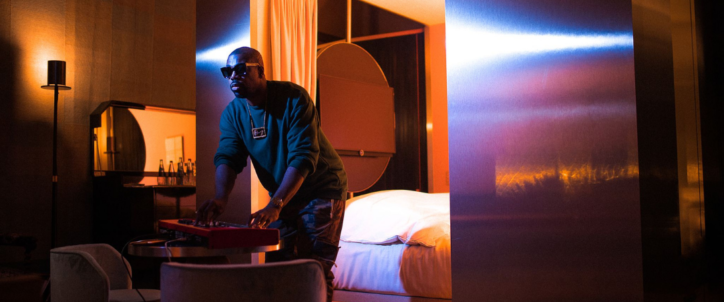 James BKS | Exclusive playlist!
Situated musically between Africa, Europe and the US, James BKS is a Franco-Cameroonian artist with a fascinating past a hugely promising future. Born in the 12th arrondissement of Paris, he moved to the States at the age of 19 and began to make a name for himself as a beatmaker. He was signed to Akon's Konvikt Muzik label and produced music for stars of the calibre of Snoop Dogg, Ja Rule and Puff Daddy. He also worked with French artists Vitaa, Akhenaton and Youssoupha, on advertising campaigns (for Yves Saint Laurent, Prada and Giorgio Armani) and on film soundtracks (Audrey Estrougo's 'La Taularde' and Jean-Claude Flamand-Barny's 'Le Gang des Antillais') before returning to France.
The 'BKS' in his name stands for 'Best Kept Secret'; by luck or by chance he only found out belatedly that he was the son of the sadly departed Manu Dibango. Before the latter died, the pair collaborated on numerous tours over a period of seven years, which allowed James to discover Cameroon. At the same time he started his own group, New Breed, which features Manu Dibango's one-time percussionist Guy Nwogang, Elias Israel on guitar, Black Kamoni on bass, Anna Kova and Gracy Hopkins on lead vocals, with Osei Agyei and Annaelle Solet providing the backing harmonies.
In 2018 he released 'Kwele' with Manu Dibango and Allan Kingdom, followed by 'MaWakanda' with Ebenezer and Reo Cragun. A year later, he dropped 'New Breed', a track which melds old school rap, afro-groove and mandingue kora and brought together actor Idris Elba, rapper Q-Tip (A Tribe Called Quest) and rising British star Little Simz. Together, these three tracks would garner over 6 million streams and receive airplay on BBC1, BBC 6Music, 1Xtra, Radio Nova, Europe 1, Africa N°1 and RFI. It was followed at the end of November 2020 by the single 'No Unga Bunga' and 'Stop Talking' is due in April. His debut album Wolves In Africa is due out in May and features guests Yemi Alade, Davido, Oxlade, Royce 5'9 and Mila J.
In the meantime, you can explore his exclusive What The France playlist featuring music from Christine And The Queens, Woodkid, Lous And The Yakuza & Damso, Alain Souchon, Tayc, Calogero, Pomme, Gims & Vianney, Booba, Camélia Jordana, Camille Lellouche & Grand Corps Malade and Vitaa & Stromae.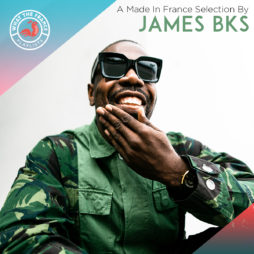 Curators
A Made In France Selection By James BKS
Discover a made in France selection handpicked by James BKS! Photo @ James BKS
Listen now