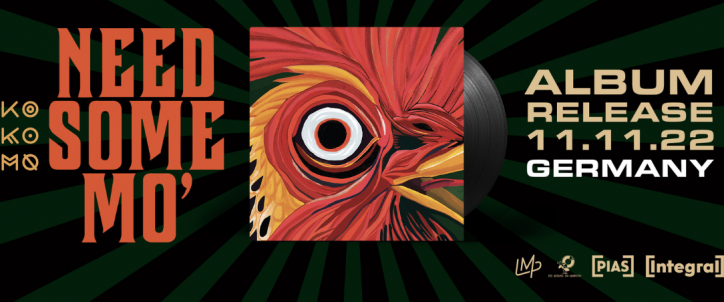 Ko Ko Mo | International tour, new album and exclusive playlist!
If you have a penchant for 70s-style rock (Wolfmother, White Stripes, Free and Led Zeppelin…) you need to pay attention to Ko Ko Mo. The band's third album Need Some Mo' is out now while their tour with Royal Republic continues in January after a short break.
Ko Ko Mo are an explosive duo featuring two brilliant live performers: Warren (guitar and vocals) and Kevin "K20" (drums and backing vocals). Together they're unstoppable. Always on the trail of their 70s heroes, they subtly transcend their influences and deliver rock music which, while classic in its approach, is resolutely modern. Warren combines his androgynous vocal with a guitar style rich in riffs and solos, while "K20" thrills with his innate showmanship. Here's a video to give you an idea:
Since 2014 and the release of their debut EP Stole My Soul, the band has been touring France, appearing at major venues and festivals like Les TransMusicales, Solidays, Poupet, Art Sonic and MaMA and playing with homegrown and international acts like Simple Minds, Shaka Ponk, Catherine Ringer, Feu Chatterton and Mat Bastard. Beyond the French borders, Ko Ko Mo have also performed at festivals like Eurosonic (Netherlands), MIL (Portugal), Mercat de Vic (Spain), Zandari Fest (South Korea), Subwave Festival (Italy) and even the 2018 Winter Olympics (South Korea). They have also toured Australia and Asia with dates in Japan, South Korea, China and Indonesia.
In October 2020, Ko Ko Mo made a splash with their invigorating cover of the classic 'Last Night A DJ Save My Life', a hit for Indeep in 1982, which has been streamed 1.5 million times. Now they're back with a new album, full of songs proving that in 2022, rock can still be a revolutionary modern sound.
Find all of Ko Ko Mo's tour dates on our site
And listen to their exclusive What The France playlist to get you in the mood!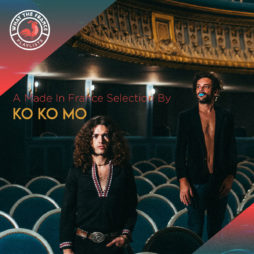 Curators
A Made In France Selection By Ko Ko Mo
Listen to a selection of made in France tracks carefully handpicked by Ko Ko Mo !
Listen now