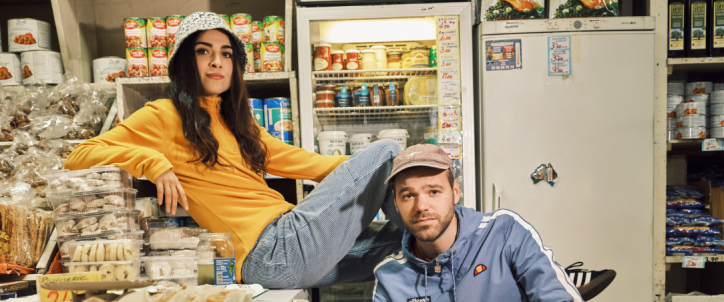 Ladaniva | A debut album and an exclusive playlist!
In October 2019, Armenian-Belarussian singer Jaklin Baghdasaryan and French multi-instrumentalist Louis Thomas – two musicians who draw their influences not only from central Europe but from around the world – formed the duo known as Ladaniva. Taking inspiration from Balkan folk music and Armenian folklore as well as from maloya, jazz, reggae and hip-hop, the pair create melodies that sit at the crossroads of tradition and modernity.
In 2020, Ladaniva released an eponymous debut EP followed by singles 'Kef Chilini' and 'Oror', the first of which goes on a musical trip around the globe and is backed up by an official music video currently boasting over 28,000,000 views on YouTube. A year later, the duo put out their first track sung in French, 'Pourquoi t'as fait ça ?', before collaborating with their friend Voyou on the song 'Malika', which has racked up more than 1,500,000 streams on Spotify to date. In 2023, Ladaniva signed with [PIAS] Le Label and dropped a series of singles, including 'Shakar', whose music video has already surpassed 10,000,000 views on YouTube, as well as 'Wayo Waya', 'Je Voulais', and 'Je t'aime tellement'.
The pair have also got plenty of gigs under their belts already, including noteworthy appearances at Les Rencontres Trans Musicales in Rennes, at Les Francofolies de La Rochelle (where we interviewed them as part of our 'Live Shot' series), at Reeperbahn Festival in Germany, at Eurosonic Noorderslag in the Netherlands and at SXSW in the United States. Just under two weeks ago, the duo released their eponymous debut album, which they're currently touring with several dates in France as well as one in Berlin on 30th October.
To celebrate the album's release, Ladaniva took the time to put together an exclusive playlist for What the France, which brings together some of their favourite made-in-France tunes, including tracks by Natacha Atlas, Al.Hy, Ibrahim Maalouf, Ninon, Benjamin Epps (ft. Le chroniqueur sale), Vincent Peirani (ft. Emile Parisien), Michou, Firmin Viry, Maya Kamaty, Maxime Le Forestier, Anne Ducros, Henri Salvador, Ayọ, Voyou, Double Six, Camille, Camille Bertault, Kacem Wapalek, Django Reinhardt, France Gall, Georges Brassens and Marie Laforêt.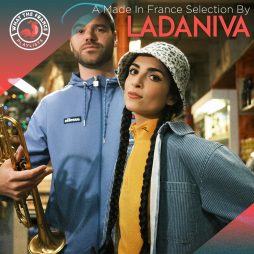 Curators
A Made In France Selection By Ladaniva
Listen a selection of made in France tracks, handpicked by Ladaniva.
Listen now