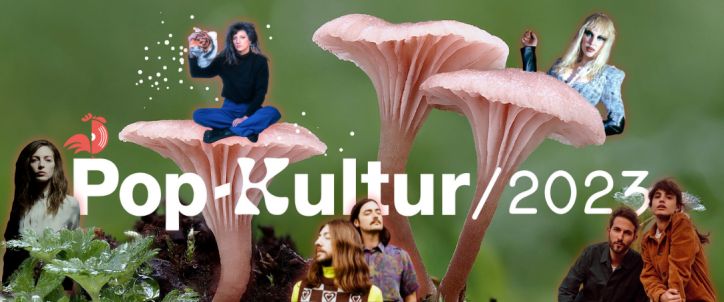 Pop-Kultur Festival 2023 | The list of made-in-France acts
This year, Berlin-based pop, indie and electronic festival Pop-Kultur is once again set to take place across three nights, kicking off on 30th August and coming to an end on 1st September. Alongside performance from a wide variety of musicians – including a handful of French acts – exhibitions, installations, debates and films will be at the heart of Pop-Kultur Festival once more. The event, created in 2015 and held on the grounds of the Kulturbrauerei cultural centre, features five made-in-France names on its 2023 line-up: Walter Astral, Sam Quealy, Tigre Bleu, Fishbach and Lola Marsh.
Thursday 31st August 2023
Although Walter Astral are already well-established in France, they're practically unknown on the other side of the Rhine. Describing themselves collectively as "a celestial explorer roaming parallel universes and diving into wormholes", the duo sit at the crossroads of psychedelic pop and acid techno, with Tristan Thomas's bass and drum machine merging into the sound of Tino Gelli's vintage guitar and a banjo that's so old that it sounds like a saz. Each driven by the same love of the absurd, the pair intertwine their different grooves to create a mystical trance. On their debut EP, entitled Hyperdruide, the band capture a classical element on each song, reflecting on the metaphysical matters of human existence – birth, death, creativity and love – on what is a transcendental journey.
"The music we would all dance to during the apocalypse" – that's how Sam Quealy's music was once described. Although we're hoping that the apocalypse can wait a little longer, we just love dancing to the sounds of "the techno-pop princess who is taking over Paris". As a teenager, Quealy left her native Australia, going on to travel the world as a professional dancer and work in Hong Kong, the Philippines and America before eventually settling down in Paris, where she met her now producer and travel companion, Marlon Magnée, one of the creative minds behind cult French band La Femme. Sam is also an active member of the legendary 'House of Comme des Garcons' on Paris's ballroom circuit, operating as a curator of her own art exhibitions whilst always remaining close to the heart of the city's nightlife. Basically, there's very little terrain that this multifaceted artist hasn't already explored.
Friday 1st September 2023
Whenever you hear Tigre Bleu sing, you're immediately transported somewhere else – maybe into distant dreams, maybe onto the summit of an erupting volcano or maybe back into happy memories. In any case, the crystal-clear voice of the Tours-born producer and performer has the ability to touch the heart, especially when combined with her playful music, which is all about melodies, pop arrangements and gentle tones that come together to evoke a bittersweet melancholy. Up until now, Tigre Bleu (whose real name is Laure Berneau) has only ever played and toured with her bands, namely Boys In Lilies and Toukan Toukän, so the fact that she is now performing solo is an experiment in itself – an experiment that sounds at times like CocoRosie, at other times like Emilíana Torrini and even at certain times like Kate Bush but, then again, in its own unique way, just like Tigre Bleu.
Fishbach is many things. Within her lies a torn teenage rocker, a femme fatale and a retro-futuristic priestess on her way to finding more freedom. Although the Normandy native was born in 1991, musically, she's at home in the 80s. In 2016, the performer made her Berlin debut at Pop-Kultur, and in the meantime, she's become a superstar in France. Fishbach is at once the musician who made her mark at the 2018 Victoires de la Musique, the singer-songwriter who toured throughout France with her debut album À ta merci and the actress who portrayed the role of Anaïs alongside Romain Duris in the 2019 French TV series Vernon Subutex, based on the acclaimed novel by Virginie Despentes. On her latest LP, Avec les yeux, her oppressively ice-cold yet sultry approach is a touch old-fashioned but unmistakably modern. Haunting vocals with plenty of synths – that's how French pop sounds today.
Fans of the series Better Call Saul have definitely heard Lola Marsh before, given that their cover of Frank & Nancy Sinatra's 'Something Stupid' made an appearance in the opening montage of S4E7. However, that's not to say that everyone else shouldn't also listen to the melancholic tunes of the Tel Aviv band, whose trademarks are multi-instrumentalist Gil Landau's soft sound and Yael Shoshana Cohen's warm, reverberating voice. Their new songs, released via Universal Music France among others, could be referred to as orchestral folk-pop with a slight touch of disco. At any rate, they always offer clever lyrics, warm harmonies and a summery signature sound, perfect for putting you in a good mood as you whistle along, as with the hit 'Wishing Girl'. What we're saying is that Lola Marsh are one of the ideal acts to listen to on a late summer evening at Pop-Kultur Festival.
Don't forget: all of these made-in-France acts await you at Pop-Kultur Festival from 30th August to 1st September 2023.
For more information as well as links to tickets, please visit: https://www.pop-kultur.berlin/en/.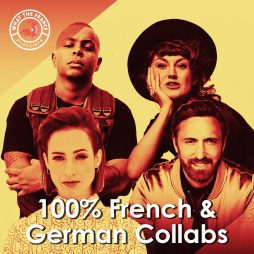 Themes
100% French & German Collabs
Listen to some of the best collaborations created between French and German artists!
Listen now