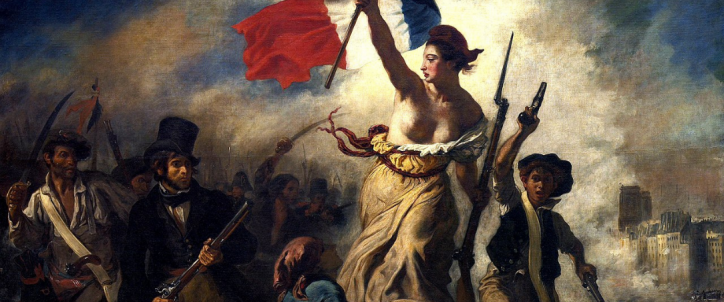 Spécial 14 Juillet | What the France's revolutionary playlist !
Every year, 14th July is synonymous with a national celebration in France, a holiday which was introduced by the the Raspail law of 6th July 1880 to commemorate the storming of the Bastille on 14th July 1789 and the end of absolute monarchy. The fall of the sadly infamous Bastille prison is a founding event of the French Revolution, marking the beginning of a long series of transformations, reforms and innovations that left a lasting mark on the history of the whole of Europe. Beyond its political significance, the revolution had a powerful impact on the arts, with music being vehicle for transmitting revolutionary ideas to the French people.
Numerous anthems and songs written during a period of around a decade were genuine ideological tools, the most famous of course being Rouget de Lisle's 'La Marseillaise'. Written in 1792 under the original name 'Chant de guerre pour l'armée du Rhin', after France had declared war on Austria, it officially became the national anthem three years later. Although it was replaced for periods by other pieces, its status as the national anthem was cemented in the constitution of the Fourth French Republic in 1946, and again in 1958 in the constitution of the Fifth French Republic. This revolutionary song, which exalts freedom and patriotism, is a genuine call to fight tyranny. 'La Marseillaise' was quickly translated and exported, with an Italian adaptation appearing in 1797, followed by a Russian version dubbed the 'Worker's Marseillaise' in 1875. Later still, in 1931, it soundtracked the birth of the Second Spanish Republic, while Chinese leader Mao Zedong made use of it during the Long March of the Red Army of the Communist Party of China between 1934 and 1935. In 1970, the 'Chilean Socialist Marseillaise' became the anthem of Chilean president Salvador Allende, before being banned under the dictatorship of General Pinochet only three years later. It should also be noted that The Beatles used the first few notes of 'La Marseillaise' in 'All You Need Is Love' in 1967.
The song would then take on a new life thanks to Serge Gainsbourg, who recorded a reggae version in Jamaica in 1979 with the title 'Aux armes et cætera' featuring Bob Marley's three backing singers: Rita Marley, Marcia Griffiths and Judy Mowatt. It's this version, which according to Gainsbourg was intended to bring the song back to its "original meaning", which opens our playlist dedicated to revolutionary songs. It's followed by more recent adaptations: one by Raggasonic member Big Red released 20 years after Gainsbourg's, and another released by Melismell in 2011.
What the France has put together a selection of protest songs from the Revolution to the present day, taking in the Paris Commune, World War II and the First Indochina War, some inspired by other social and political struggles, and anti-war songs. You'll hear iconic musical moments that are now part of French cultural heritage, from the likes of Edith Piaf, Georges Brassens, Anna Marly, Serge Reggiani, Jean Ferrat, Léo Ferré, Mireille Mathieu, Nino Ferrer, Yves Montand and Georges Moustaki, but also more contemporary tracks by NTM, HK & Les Saltimbanks, Saycet, IAM, Zebda, Keny Arkana, Ryon & Naâman, Tonton David, Saez, Disiz La Peste, Pat Kalla, No One Is Innocent, Laam, Zoufris Maracas and Tryo.
Listen to one of our playlists !
Themes
La Révolution
Listen to an eclectic selection of revolutionary songs "made in France" !
Listen now