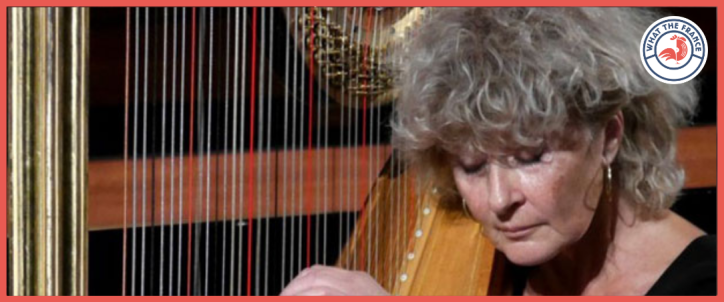 A classical voyage with… Marielle Nordmann
In the latest episode of 'A classical voyage with…', What the France invites you to get to know another classical musician, with the 12th interview of the series taking you on a journey through the life of internationally renowned French harpist Marielle Nordmann.
An interview with Marielle Nordmann
In this What the France interview, Nordmann shares her extraordinary memories and experiences as a harpist whilst also revealing which French books, films and dishes she holds dear to her heart. The Montpellier native also tells us about a fateful encounter that had a profound influence on her international career – if she hadn't met a certain harpist by the name of Lily Laskine, would she have become the first French artist to play in Ushuaia, Argentina? And would she have bumped into Mstislav Rostropovich, Maurice André and Lorin Maazel on board a cruise ship?
A fateful encounter
While she now has over 40 years of live performances and studio recordings under her belt as a harpist, Nordmann actually started out as a pianist before trying her hand at the plucked string instrument at the age of ten. In fact, over the course of her chat with us, she insists that her sudden love for the harp was no accident; it was born the day that she met Lily Laskine over a cup of tea with her grandmother. The prominent 20th-century artist made an instant impact on her and completely changed her life, as Nordmann would later become a pupil of hers.
Nordmann's collaborations
The Conservatoire de Paris alumnus then felt the need to take the harp out of its traditional chamber-music realm and instead play it as a soloist, helping to enrich her instrument's repertoire with a whole host of transcriptions. She has also enjoyed multiple collaborations with other artists, whether it be duets with Laskine, performances as part of Le Trio Nordmann – of which she was a member for 15 years alongside flautist André Guilbert and, at least initially, cellist Bernard Fonteny – or occasional concerts with violinists Patrice Fontanarosa and Nemanja Radulović as well as with flautist Jean-Pierre Rampal. All of these encounters have undoubtedly helped Nordmann to gain recognition outside of France's borders.
Nowadays, she still forms part of the French musical landscape as she continues to perform various concerts. As the co-founder of both Les Journées de la Harpe d'Arles and the Concours international de harpe Lily Laskine, at 82 years old, Nordmann never seems to want to stop popularising her favourite instrument.
While you wait for more 'A classical voyage with…' videos, why not listen to our 'Keep It Classique' playlist and check out the latest classical music releases made in France?