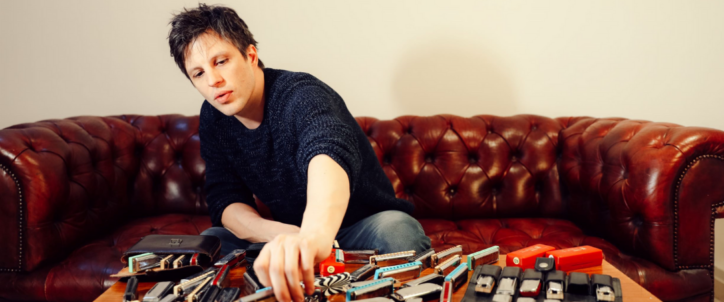 Charles Pasi | New album 'Zebra'
With 2017's Bricks, his first album on Blue Note and one filled with jazz/blues/pop gems, Frenchman Charles Pasi had his breakthrough ough. Now he's back with new release Zebra.
Zebra is Pasi's second album on Blue Note and is released on 5th February. The singer, guitarist and harmonica virtuoso has spent two years writing new songs while touring his previous release, playing hundreds of shows around the world: China, Tunisia, the Netherlands, Germany, Turkey, Mauritius…
From the start, Pasi has been pushing through barriers. Finalist of the Memphis International Blues Challenge in 2006, a support act for Neil Young, a deal with Blue Note in 2015 and a performance at Montreux in 2018, he has surely and steadily been fulfilling his childhood dreams.
The zebra is an unusual creature, neither king of the jungle or hero of wildlife series. It crosses great distances almost soundlessly, its striking black and white stripes serving as camouflage. The music of Charles Pasi is somewhat similar, both acoustic and electric, bright and sombre, proud and pensive. The new album, composed between Istanbul, Paris, Casablanca, New York and Mauritius, is a rich musical creation that was recorded with Cyril Atef on drums, Vincent Peirani on accordion and Fred Dupont on organ and keyboards.