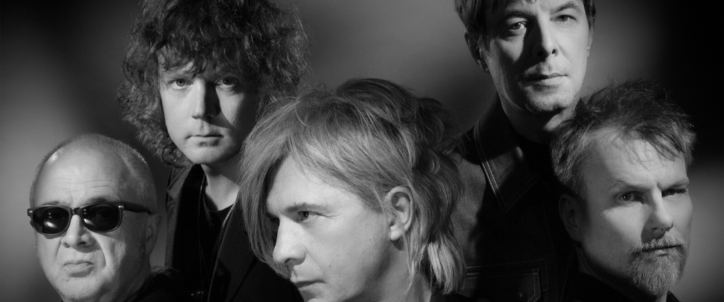 Indochine | A Best Of and a stadium tour for their 40th anniversary
Retracing the story of Indochine is a bit like revisiting the last 40 years of French history. Since the French rock group started out, there have been five presidents, wars have raged and revolutions have taken place. The death penalty has been abolished and marriage for all instated. Political, climate and health crises have followed on each others' heels. But in spite of all this, Indochine have survived and endured – and now they're getting ready for a much-deserved celebration of that fact.
The Singles Collections

Indochine: a 40-year career, 13 studio albums, numerous concerts and many other projects besides. During a press conference on 26th May, the band – whose music unites generations – announced a new two-volume Best Of that gathers together all their singles (and a few unreleased tracks) since 1981. A cause for celebration for fans old and new. Singles Collection (2001-2021) will be released on 28th August and is already available to pre-ordered here, while Singles Collection (1981-2001) is due in November. The first comes with a previously unreleased new track 'Nos célébrations', recorded between London and Brussels in 2019. It's all been remixed by Mike Guzauski to give a uniform sound, and designed by Erwin Olaf.

A stadium tour
Indochine wouldn't really be Indochine without live shows… with each album release, the tour is the moment of communion with the public. During the press conference, the band also announced they would be embarking on a stadium tour in 2021: the Central Tour. Indochine will be coming together with their fans in stadiums in Paris, Lille, Bordeaux, Lyon and Marseille. For this tour, the group – who have never stopped innovating – have come up with a new concept. They will be playing in a central position, surrounded by circular screens, so that nobody misses a moment of the show. The 56 singles will be played, in full or in a medley, in the course of two and half hours. And all of that, as is traditional for the group, at a very accessible price. Places will also be reserved for workers who had a key role in the fight against Covid-19.

A documentary telling the story of the group is also in preparation.
Always looking forwards

All these celebrations will lead Indochine into 2022 and a brand new studio album…