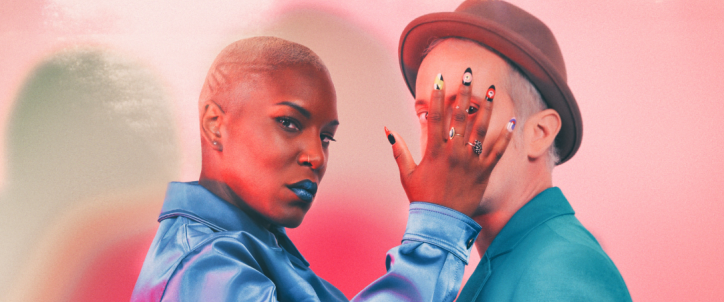 Joon Moon | New singles and an album on the way
Joon Moon were formed in the Montmartre quarter of Paris in 2014, and behind the mysterious name is the meeting between the voice of American artist Krystle Warren and the music of talented composer Julien Decoret, who has also worked as a producer for Acoustic Resistance, La Boetie and Florent Marchet and has toured the world with Nouvelle Vague. Having released a first EP, Chess, in 2015 followed by the album Moonshine Corner in 2017, and receiving support from international radio (KCRW, BBC2/6, FIP, France Inter, Fluxradio and Couleur 3), the group has also played legendary American festival SXSW.
Now in 2021, Joon Moon – who have been streamed over 10 million times around the world – are finally back and ready to thrill their fans again. Julien Decoret is still at the controls, but this time accompanied by singer Liv Warfield, ex-protégé of Prince and member of the NPG (New Power Generation). Together they dig deep into the grooves of classic soul, aided by vintage instruments like the Cristal Baschet, a 1950s Galanti vibraphonette, a 1968 Höfner violin bass, a 60s electric piano and 70s analogue synths.
After the 'Bla Bla' single, the pair have released a new track, 'Feel It', which will be followed by 'Modal B' on 2nd July. In the absence of live show, Joon Moon have shared a live session which you can watch below.
It features those first three tracks and several other unreleased songs from their new album, called Chrysalis, which is set for release on 27th August on the Musique Sauvage label.