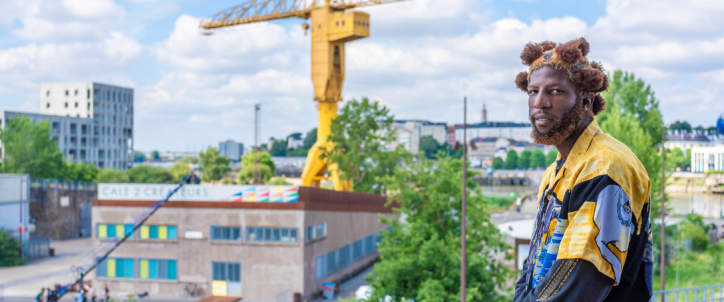 No Cut | Lilly Wood & the Prick, Ichon, Jeanne Cherhal, Thylacine and Ko Ko Mo
Connecting different places, genres and people in a film which takes place in the same space and time – that's the ambition for audiovisual work No Cut, produced by Sourdoreille and directed by Sami Battikh.
One long, 22-minute sequence with no edits or effects, covering 800 metres on the Île de Nantes and featuring five artists who each take their turn to play a song live. It's all done in one take with a single camera.
During this musical stroll, the viewer floats, rolls and walks alongside Lilly Wood & the Prick, Ichon, Jeanne Cherhal, Thylacine and Ko Ko Mo, covering pop, crooned rap, chanson, electronica and heavy rock.
Using rails, dollies, Steadicam, and telescopic cranes…  the single camera takes in numerous environments in a matter of minutes, following a specially planned route that permits it to capture all the performances from a variety of angles: from the slipway of the former shipyards that house the Stéréolux venue to the Carrousel des Mondes Marins mechanical aquarium.
This technical and artistic challenge was also one for the artists who agreed to take part in the project. More than just a sequence of five very different songs, it inspired each of the artists to bring a real unity to the piece: the saxophonist of Lilly Wood plays a free jazz solo to announce the beginning of the track by Ichon, who produced a special edit of his own track to fit with different shots. Meanwhile, Jeanne Cherhal wrote an intro which blends perfectly with the end of Ichon's performance.
It's this fluidity which have created, over the course of 22 minutes, a unique, collaborative audiovisual work.