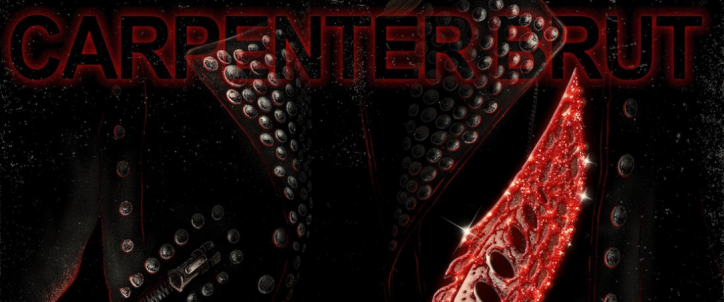 Carpenter Brut | Interview about new album 'Leather Terror'
French synthwave icon Carpenter Brut is back with new album Leather Terror, preceded by colossal synth-rock anthem 'Imaginary Fire' featuring Greg Puciato (The Dillinger Escape Plan, Killer Be Killed, The Black Queen). In the video for the track, directed by Dehn Sora, we're given a ringside seat for a disturbingly beautiful apocalypse that resembles a psychedelic trip.
For the readers of What The France and those who don't know you yet, could you introduce yourself? How would you describe your music?
Carpenter Brut will soon be ten years old. It's a project that mixes Justice-style electronic music with the atmosphere of horror films, particularly inspired by John Carpenter. I am the sole composer of the music, but I'm accompanied on stage by a guitarist and a drummer.
You've just released a new album, the second in a trilogy, called Leather Terror. What's the idea behind the album? How does it follow on from Leather Teeth, released in 2018? And how is it different?
It's mostly about the amount of time I had to write them. Leather Teeth was written in six months while Leather Terror was written over 18 months. There are four more tracks, that's a big difference in terms of the feel and the coherence of the album. Leather Terror feels more mature and is more fine-tuned. Also, Leather Teeth and Leather Terror are two different stories so I wanted the atmospheres of the two to be different: on Leather Teeth I introduced the different characters in my story, including the main character, Bret Halford, the geek who's a fan of chemistry and glam rock and who's secretly in love with Kendra, the high school cheerleader who is in love with Chip, the popular quarterback. It was about love, teenage memories, jealousy and anger. I wanted to encapsulate all these feelings, so it had to be a lighter album, less dark and aggressive. On Leather Terror, the story picks up four years later: Bret Halford has become a rock star who is ready to have his revenge on the former schoolmates who bullied him. The album needed to be more mature, sombre and aggressive than its predecessor. So the musical evolution follows that of the character and his story. It also follows the musical evolution between 1987, the date of Leather Teeth, and 1991, the year during which the events of Leather Terror happen. I tried to have a bit of a link to that period. In fact, the two albums are like Bret Halford, who has gone from being a carefree teenager to a determined adult.
Your albums tell the story of Bret Halford. Who or what inspired this story? How does the second album continue the story? What personality does Halford take on?
Bret Halford and his story are drawn from my imagination. As a teenager, I watched lots of slasher movies, so it's my way of paying tribute to these genre films. Bret Halford being a combination of Bret Michaels from the group Poison and Rob Halford from Judas Priest, I wanted it to also be an homage to metal and glam rock. As I previously mentioned, Bret Halford wants revenge on those who humiliated him at high school. Having become a glam rock star, he is famous and adored by everyone but, in spite of all that, he hasn't forgotten that people who bullied him. So he's in search of bloody vengeance… in his head at least. So as you can see it's a standard, cliched slasher film scenario like Friday 13th or Halloween.
Why was writing the new album a long process?
I took advantage of having told my booking agent that I wasn't going to tour in 2020 because I wanted to focus on the writing of my next album. It turned out to be a good decision because Covid-19 meant that everyone had to stay at home. I also took the time to ask singers I like if they wanted to work with me on the new album. It took me a year and half to write the album – I took my time, explored different sounds. It was a pretty fruitful period because I had a lot of time for myself and my music.
You worked with quite a few different people on this album – the song 'Imaginary Fire' features Greg Puciato. How did the collaboration happen? What did it bring to the project?
I wrote the music and asked Greg if he wanted to sing on it. In fact, originally the song was supposed to be sung by Chino Moreno, but it didn't happen due to a lack of time and motivation. I also asked Ben Koller, the drummer with Converge, who he could imagine singing on the track – he said Greg Puciato and put us in touch. Greg loved the track and came back pretty quickly with a topline, and it all went from there. Since I was writing during the pandemic, a lot of bands and artists were stuck at home and so were available. So I took the opportunity to contact a lot of them. I like punchy songs in a pop format and vocals are a bonus for that type of song. With instrumental tracks, I like them to last longer and give them time to evolve. They're two different approaches. I wanted to do both for this album, which is why there are six songs with vocals and six instrumentals.
For the video to 'The Widow Maker', you worked with well-known actor Dylan Sprouse. How did the musical and cinematic arts come together here?
I've known Dylan for three years now. I knew he was following me on social media and liked my music. One day I received an email from his agent asking for my address because Dylan wanted to send me a comic book he'd written the story for (Sun Eater). When I received it, there was a kind note saying that my music had been the soundtrack to the writing process. So we got in touch like that and over time I said to myself that he would be the perfect person to play Bret Halford. I spoke to him about it and he immediately accepted.
A world tour is planned for the autumn – what does that feel like after two years of the pandemic?
It's strange to be going back out on the road and travelling thousands of kilometres in a short space of time. It's quite stressful, not just the preparation for the shows but also because the pandemic isn't over, so you have to be very careful and not fall ill otherwise it means cancelling shows.
Other than the tour, do you have other projects in the pipeline?
At the moment I'm totally focussed on the shows. I like concentrating on one thing at a time in order to do things well. If I spread myself to thinly I'm worried about being everywhere and nowhere at once.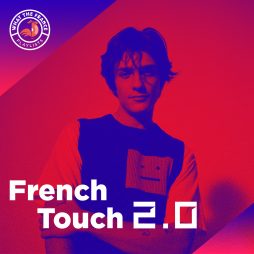 Genres
French Touch 2.0
Get your hands on the latest electronic music hits made in France.
Listen now