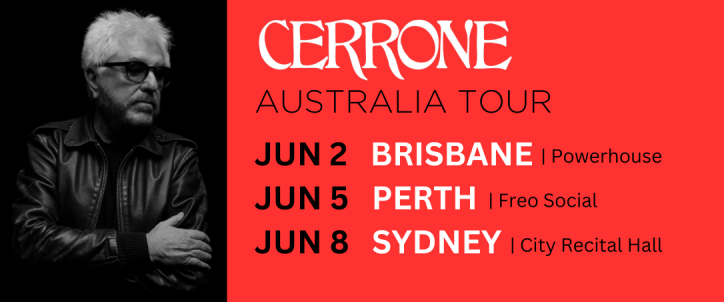 Cerrone's Australian tour 2023 | Win Tickets!
French Disco legend Cerrone has announced his first Australian live set tour from the 2nd to the 8th of June in Brisbane, Perth, and Sydney. Enter our competition to win a double pass!
Few artists can claim to be truly genre-defining, but Cerrone is undoubtedly one of them. A pioneer of the French filter sound and a revered producer amongst the likes of Larry Levan, Nile Rodgers and Francois K and sampled by everyone from Daft Punk to Run DMC, the drummer and DJ behind Supernature and Love In C Minor is seemingly just warming up.
For his first-ever Australian shows, Cerrone will perform a live audio-visual show with vocalist Brendan Reilly (Disclosure, Basement Jaxx).
A Part Of You
His latest single, A Part of You, samples the vocals from You & Me, the 2013 hit by acclaimed UK duo Disclosure, which was also famously remixed by Flume. The single itself was a reworking of the single House Of The Rising Sun, made by Cerrone in 1977.
About Marc Cerrone
Marc Cerrone was one of the most influential disco producers in Europe during the 1970s and early '80s developing a massive following and being labelled a 'pioneer' of modern disco music. Born in Paris in 1952, he studied music as a child and won his first post as the orchestra leader at a Parisian club at the age of 18. After additional work with the French producer Barclay during the early '70s, Cerrone released his first solo album, Love in C-Minor, in 1976. The title track proved a massive European hit and worked its way into the American Top 40 as well. While Cerrone never found massive intercontinental success, he has managed to captivate European audiences throughout a career spanning nearly forty albums. Now in his 60s, the artist continues to tour the globe with equally enthralling live performances of vast stature and intriguing visual display.
Cerrone's music has had a massive influence on the music industry, especially within genres such as hip-hop where his works have been sampled by the likes of Nas, Beastie Boys, Arsonists, Geto Boys, Infamous Mobb, Apollo Brown, and MF Doom.
Supernature
This is the story of an iconic, flamboyant disco hit that has been covered, over and over…and over again. What The France invites you to delve into the story via our web-series, Once Upon A Song. Bertrand Dicale (words) and Dugudus (pictures) tell the story!
Tour Dates
Cerrone - Disco
Jun 08, 2023
COMPETITION
Take part for a chance to win a double pass!
The competition is now closed.
Congratulation to all the winners
Adriana L. | Brisbane
Lee T. | Perth
Madeleine P | Sydney
All the winners have been contacted via email, if you have any questions please contact: whatthefrance.australia-ext@cnm.fr
Playlist
Have a listen to our 'Who Sampled Cerrone?' playlist and (re)discover some of the highlights of the French icon's musical career, as sampled by artists from around the world. After each original Cerrone track you will find one or more songs based on samples from it.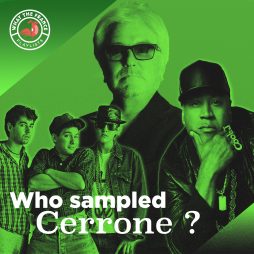 Themes
Who sampled Cerrone ?
Discover a selection of Cerrone songs that were sampled by artists worldwide.
Listen now