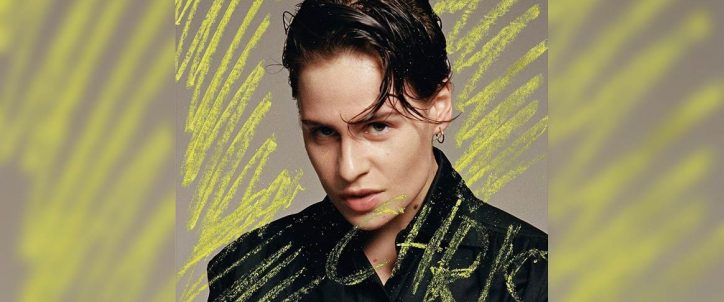 Christine & The Queens | UK Media's Total Crush On Chris
Christine and The Queens receives her second BRIT Awards nomination in the International Female Solo Artist category. The 2019 ceremony will take place at the O2, London, on 20 February. The nomination comes as her new album Chris lands on almost every critic best of 2018 list.
Overall it has indeed been an exciting and wonderful year for French music. But for Christine and the Queens, 2018 was exceptional on all levels. Her sophomore album Chris having been released last September via Because Music, she then embarked on a successful worldwide tour, with several sold out dates in the UK.
A few hours after the official release, Chris had already received excellent reviews from The Independent, The Guardian and The Telegraph, obtaining five stars from the three of them. Tabloids Daily Mirror and Daily Star both rated the album with a 4 star-score. Chris obtains a 9/10 from Clash and The Economist made it album of the week. Meanwhile, MOJO Magazine named 'Girlfriend' its track of the year and ranked Chris #5 in its Albums of the Year list. Finally, Christine & The Queens made an unforgettable return to Later… With Jools Holland and on The Graham Norton Show. In addition, you can watch Christine cover Rihanna's 'Kiss It Better' in a recent appearance on BBC Radio One.
As well as references to Michael Jackson and other 80s pop successes, the album sparked passionate reviews. Indeed, Christine & The Queens' shapeshifting Chris persona broke down preconceptions about gender, pop music, and most points in-between, with The Guardian enthusiastically describing it as "an album about pop music as much as any of the other topics it addresses. Or rather, about a belief in pop music as something more than ephemeral – as a vehicle for ideas, a space in which you can transform yourself – in an era when pop is supposed to have lost its longstanding hold over its audience, when it's not supposed to amount to much more than a pleasant soundtrack or minor distraction. Get it right, Chris implies, and it can still be powerful".
Or as Clash Magazine suggests, "Chris is a fascinating, infectious, endlessly suggestive work". Vive la reine!
In case you haven't already, listen to the album below:
Discover more Pop made in France in our playlist "Pop the Champagne":