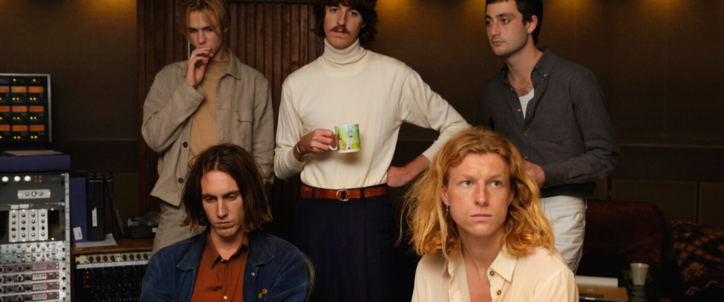 Parcels | New Live Album 'Live Vol. 1'
Parcels have released a new album, Live Vol. 1, featuring 18 songs recorded on 24-track tape and mixed in the legendary Hansa studios in Berlin. The album offers everything that a fan of the group could hope for: hits, experimentation, seamless transitions… all the aspects that give Parcels' performances their special aura.
"the perfect bookend to the debut album"
"For us, this idea was the perfect bookend to the debut album. A lush 24 track tape recording of all the album songs being performed in a classic studio", the band have said.
Carmen Crommelin, the director of the video, explained her approach: "The magic of Parcels needs no added narrative if you're lucky enough to witness them in creation. I wanted the camera to be both passive and intimate, so you could politely observe from a distance and walk through the room like a friend."
Jules Crommelin, Noah Hill, Louie Swain, Patrick Hetherington and Anatole Serret, who are all singers and multi-instrumentalists, are ambitious and committed virtuosos who deliver apparently effortless harmonies and musical alchemy.
Grooves that make the whole world dance
After two EPs, Clockscared (2015) and Hideout (2017) and the single "Overnight" (2017) – produced by Daft Punk – the band cemented their popularity with audiences and press on their eponymous debut album (2018). Their songs oscillate between shadow and light, with contagious grooves that are often juxtaposed with melancholy lyrics. Following the release of their debut album, they traveled from Brussels to Tokyo, playing TV shows and major festivals.
Even in this period of lockdown, the group has found ways to keep in touch with its audience – band members have recently released online 'tutorials' for "IknowhowIfeel". It's an opportunity for fans to learn the song and all the instrumental parts.
On 5th May, the band will also be responding directly to fans' questions during a 'listening party' http://listeningparty.parcelsmusic.com/