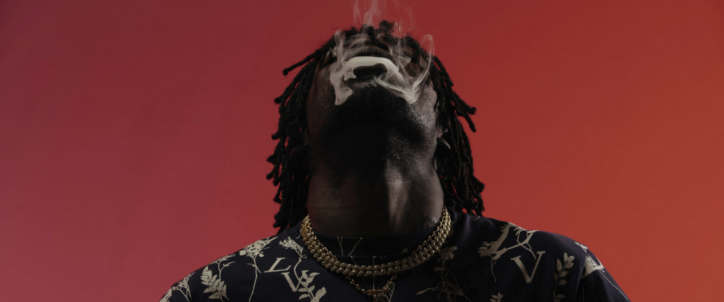 GAZO | The Parisian rapper releases his 'Drill FR' mixtape
Dubbed the 'prince of drill'  by the French media, rising Parisian star Gazo is ready to reach out to an international audience with his first mixtape Drill FR. With his new video 'A$AP', Gazo proves that he's ready to be a figurehead for European rap.
Words from the street

Having begun his career using the pseudonym Bramsou, Gazo rocked the French hip-hop scene last year with his impressive freestyles, and particularly with his series of raw 'Drill FR' videos. The phrase 'tema la kichta', which he used in one of the videos (meaning 'all good, everything's fine') has been picked up by young people across the country. With his elaborate adlibs and fluid feel for melody, Gazo is considered a pioneer of French drill and has worked with other rappers like Kaaris.
The 26 year old grew up in Saint-Denis (the '93'), one of the poorest districts in the north of Paris and with the highest crime rates in the country, which has for decades been synonymous with the ghetto, violence and gangs. It's the brutal reality of an area with a 22% rate of unemployment that the son of Guinean immigrants describes in uncompromising tracks like 'Cache Cou' and 'Tchin 2x'.
'Drill FR' with Unknown T, Hamza, Luciano and many more

'Drill FR' is a powerful mix of influences from the radical street rap of American drill stars like Pop Smoke, uncompromising lyrical salvos and the bitter experience of growing up in the suburbs as the child of immigrants. As well as guest turns from French-language rappers like Hache-P and Hamza, as well as UK rappers Unknown T and Pa Salieu, and Berlin's Luciano get involved in the Gazo's first official release and demonstrate that drill has become an international movement, with a new generation of European rappers working together to push things forward.
On Drill FR, Gazo mixes his rigorous, baritone vocals with a melodic sensibility and aggressive missives from the daily life of a dealer to create a dark but engaging portrait of his district. It is without doubt one of the most exciting French rap releases of the year so far.