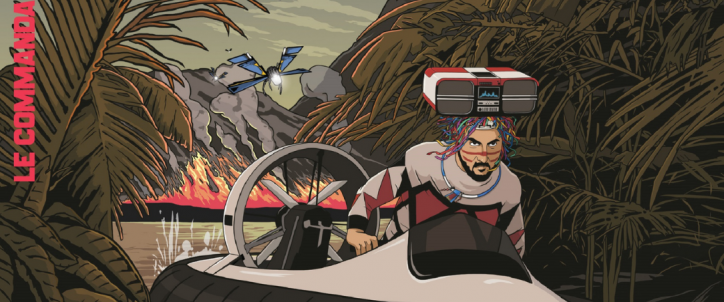 Le Commandant Couche-Tôt | Exclusive interview about his new EP!
Ahead of the release of his new EP Une Histoire d'Amour Brésilienne on 7 January 2022, Anthony Malka, aka Le Commandant Couche-Tôt , agreed to talk to us about his creative process and life in Berlin.
Hi Anthony, thanks for taking the time to speak to us. How are things generally? 
We're trying to be as organised as possible, to stay positive and do as much as possible, in spite of the restrictions we face on a daily basis. In Berlin we're starting to feel the pressure. We didn't feel the first wave and lockdown as much as in France. Now it feels like the vice is tightening more.
For the readers of What The France and people who don't yet know you, can you introduce yourself and your music?
My name is Anthony Malka. I'm French but I've been based in Berlin since 2007. I've had different musical projects here, notably a band called The Hoo, which is a folk group with two Italians. We toured a lot together for five, six years and put out five releases over that time, so we were pretty active. I put quite a lot of time into that. I decided to call and end to that project two or three years ago and concentrate on my solo project, Le Commandant Couche-Tôt. It was born out of piano sketches I'd been collecting for a number of of years. I wanted to record and produce but I didn't know how to go about it. I wanted to get back into it and that's how it started.
You work primarily with the piano. Did you have lessons as a kid?
Yes of course. I did classical piano for ten years, a started age six. Since I was little it's something that always interested me. As well as the classical lessons, I studied jazz around age ten, 11 at the school in my town and after that I listened to quite a lot of funk, hip-hop and jazz. From that point I started to play all kinds of others things on keyboard. I wrote my first compositions on a keyboard and I haven't stopped since.
Was there a point in your life when you realised you'd be able to make a living from music?
It's quite a difficult thing, it hasn't always been the case, it depends. With Covid, there have been difficult moments in the sense that there weren't any live shows and we mostly make a living from those. Despite that, it's always satisfying to reach a point where your project is serious enough to be able to live off, at least partly. The project really exists, for people, on the radio, and that's the most satisfying thing.
You've been living in Berlin for 14 years. What's your relationship to the city?
I fell in love with Berlin by chance. A came here for the first time in the summer of 2016, for an internship. Some friends advised me to come here. After two or three days it was like like love at first sight! It was idyllic: it was summer, the weather was great, lots of clubs, now closed unfortunately, were opening up around that time. It gave me an impression of total freedom and huge possibility that I still feel today, even if it's a bit less and differently, but it's a city that has this unique energy that I didn't feel in Paris when I lived there. In Berlin, there's more movement, everything is culturally more open. It has become much more professionalised in the last few years, which has limited the possibilities but it sill remains fertile ground for trying things out.
You often work with artists from different countries, which makes Le Commandant Couche-Tôt a very international project. Can you see yourself living somewhere other than Germany or France?
It's not easy. I have a hard time imagining myself in another city after Berlin. And I have travelled a lot, but I've never found a city that excites me as much as Berlin. However there was a moment when I was thinking about going to Portugal, I like and know the area around Lisbon quite well because my wife is from there. But for now I can't really see myself moving. I have a young boy who goes to school as well, I don't want to completely uproot him. For the moment it's hard to top Berlin.
You will soon be releasing your second album, Une Histoire d'amour brésilienne. It's the second chapter of the adventures of the Commandant. What's the creative process like?
The record is finished. Two singles have already been released. The physical version is coming out in early January. So everything is ready and it's always a relief to let go. The creative process often starts with chords, meldodies and harmonies on the piano. After that I transcribe it to my other keyboards. I usually have ideas for all the instruments. I don't write anything. I've studied theory but I don't write music so I record just with my voice and a melody or I record the harmonies and the rhythms with a keyboard. I also sometimes use samples a the beginning which I later replace. So generally I have ideas for all the instruments and I send them to all the musicians I work with. Then they record their parts, I supervise the recording sessions and I edit. It stats with the piano, then it's handed over to the other musicians who record their parts, and I assemble everything.
So if we've understood correctly you never play together? 
For the first album, because of the lockdown, some parts were recorded together but most things were recorded separately. It's worked ok up until now but I must admit that for the next recordings I'd really like to have everyone I'm working with in the same place, and have sessions where we're all together in the studio.
While your first album had a Polynesian setting, this time you've turned to Brazil and the Amazon in particular. Why this choice?
When I created the character of Le Commandant Couche-Tôt, I wanted to travel with him. The idea of Brazil was to pay homage to Brazilian music, even if not everything on the record is given over to that style of music. There are definitely influences from groups like Azymuth which come through because it's music I love.
Visually speaking, I imagined this kind of Amazonian forest because there's an ecological side to it too. On the cover, you see the Commandant who's driving a sort of hovercraft, and behind him you see the Amazon in flames. The fires in the Amazon are a sad reality, unfortunately. As well as this environmental aspect, I wanted to talk about technology and more specifically the omnipresence of technology in today's society. We could took for hours about the extreme surveillance that rules over our lives, like drones. So the album cover evokes the darkness of our times, its disturbing, dystopian side; but the music in itself is the antithesis of the current unease.
Your first album, Le Commandant Couche-Tôt et son magnifique orchestre de claviers was released in Octover, at the height of the Covid crisis. Since you've been working on this solo project, have you been able to perform it Germany or elsewhere?
No not at all. But it was a choice because at the time I didn't feel like I had enough material to present the project live. It's for that reason I wanted to quickly release a second album, so I could revisit territories I already know a bit better, and in which I feel at home. The first album is largely instrumental, it has real affinities with film soundtracks, lots of people contributed and I had a hard time imagining it live. The next step is to create something that could work on stage as well, but also to look at how the first two EPs could be done live.
Do you know where you'd like to play live first?
I don't really know yet. I'd like to start in Berlin just to try things out at the beginning. But I'd also really like to play in France for the first time. I've played a lot in Germany and I think my music could also work with a French audience.
As well as your second EP and potential live shows, are there are projects you're working on? 
There are loads! I never stop (laughs). I'm already working on the next two EPs of the Commandant's adventures. I have a lot of work-in-progress tracks that that I'd like to finish. For the third EP, I'd like to focus on an aspect of film music where the piano would be even more prominent than in my other projects, a bit like the music of Joe Hisaishi, who worked on Miyazaki's films. For the fourth EP, I'd like to make a hip-hop EP, with producers based in Berlin. I already have the synopses and visuals for these two EPs in my head and I'd really like to work on them.
Do you think you'd like to work on a film soundtrack at some point?
Yes, totally, it would be brilliant! I've never done it properly but lots of people tell me that the music I've written so far could work really well.
Thanks for giving us a tour of your world Anthony!