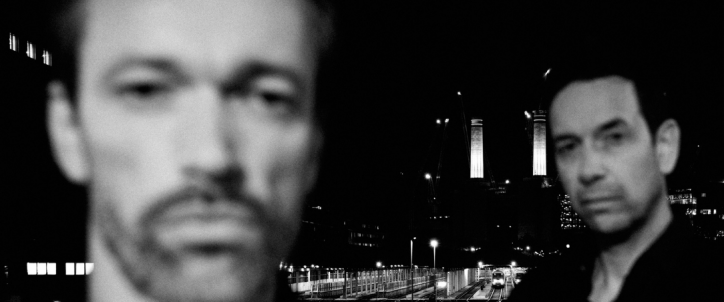 MD ONE | Interview and new album!
With their debut album Twelve Stars due for release on 11th June, What The France caught up with duo MD ONE, from Annecy (in the South West France), to talk about their inspirations and ambitions.
The M in MD ONE refers to Marc, who founded the group and writes the music. He's the alchemist and goldsmith of his compositions, which he writes with guitar and keyboard.
D is for David, the wordsmith and singer with MD ONE. The music inspires his lyrics, and loves the way certain words evoke feelings and give life to dreams. He's in search of serenity and spirituality, and loves the stage and the unique relationship it's possible to forge with one's audience.
ONE: Unity is their most important characteristic. It's with this same passion that they have written and recorded their debut album, Twelve Stars, a constellation of 12 tracks.
L'unité est ce qui les caractérise. C'est avec cette même passion qu'ils ont composé et vous livrent aujourd'hui leur premier album, Twelve Stars, une constellation de 12 titres.
MD ONE have become synonymous with powerful songs in which the words stumble and sparkle with joy, sadness, love and melancholy.
Interview
When and how did you meet? What made you decide to make music together?
Marc: We met in our early 20s and formed our first group. Many young bands start by doing covers, but we were already writing our own material. After that I started getting more interested in production when it became possible to do it on your computer. The first MD One songs were the result of that, with David then adding his voice to the arrangements… and the dup was born.
David: Youth, feeling carefree, pleasure and creativity are the leitmotifs, and writing for the freedom it represents.
How would you define your music? What are your main sources of musical inspiration?
Marc: It's progressive myusic, with quite rich arrangements like you get with trip hop for example. It's music inspired by virtual images. I'm a big fan of the work of Ennio Morricone, for the emotion you get from his music, always tinged with melancholy. There's also Depeche Mode, for their melodies and their capacity for sonic innovation.
David: I have a number of inspirations… the great rock and pop groups: U2, DM, Keane. Trip hop artists like Tricky, and the great interpreters of songs like Piaf and Brel.
Your first album is called Twelve Stars. What does the title refer to?
Marc: When we started out we didn't really have a precise objective. Recording a six-track EP seemed like an attainable goal to begin with, but as we progressed with the first tracks we decided to go all out and make a full album with 12 really elegant tracks… twelve stars, a constellation.
David: The title refers to a constellation of 12 tracks and it has a hidden meaning for me… as with my writing, I like there to be more than one possible interpretation of a title or a lyric.
The video for your debut single 'Love Grows Every Day' was filmed on rooftops in London, while the second – 'Bombe A' – is set at night in the streets of Berlin. Cities seem to have an important role in your creative process, in your aesthetic and your songs. Can you tell us more about that?
Marc: Some trips have inspired some of my compositions. The choice of filming location is determined by the mood of the track.
David: I like travelling and discovering cities and cultures that inspire me. The openness to others and the energy of these places are inseparable from my creative process, I've had a great number of great encounters because of these life experiences and they also play a part. The aesthetics of London and Berlin also had a big impact because they represent an image of ourselves that we want our audience to see.
Why did you choose Berlin specifically for the 'Bombe A' video?
David and Marc: For its underground character, the avant-garde side of the city and its nightlife. Some of the biggest names in music went there to look for inspiration, like David Bowie, Depeche Mode and U2.
What's your connection to the European live scene?
Marc: It's only our first release, so our connection with the European live circuit is still weak. In future, I imagine shows in intimate venues, close to an audience that is responsive to the atmosphere of Twelve Stars.
David: The stage is another musical adventure, a real key step in your relationship with audiences. I would love to be able to play our songs to as big and varied a public as possible, an audience to be won over. Taking part in big European festivals would be a great way of introducing our music to the greatest number of people.
You worked with director Serge Baio on his film Blessures, with your song 'Méandres de l'amour' featuring on the soundtrack as well as on your album. What is the link between music and film for you?
Marc: The connection is straightforward because all of the songs on Twelve Stars were written first as instrumentals. The vocal lines come afterwards, transforming the music and giving it a pop-rock dimension. Each of the tracks could be on a soundtrack. It's the way I write: music for images.
David: It's true that some tracks could be associated with cinematic, instrumental music. However, I don't think that all our songs are like that. For me, a number of tracks on the album were created in a very pop way. I always write my vocal melodies from a pop perpective. Serge Baio has been a friend of mine for a number of years, his project touched me and he was also taken with ours, so our collaboration was born like that.
How do you see your music and your career evolving in future?
Marc: I see our music as being at the forefront of technology, new equipment and sonic design. I see myself creating new songs that follow on from the first album, while going further in terms of musical hybrids. Making something long-lasting, and continuing to surprise.
David: I like to feel free and I don't have particular ambitions as a writer and singer. I like being carried along by projects, positive situations, meetings that inspire me, and "good", a value I attach a lot of importance to. My writing and my singing are catalysts for messages I'd like to share with as many people as possible.