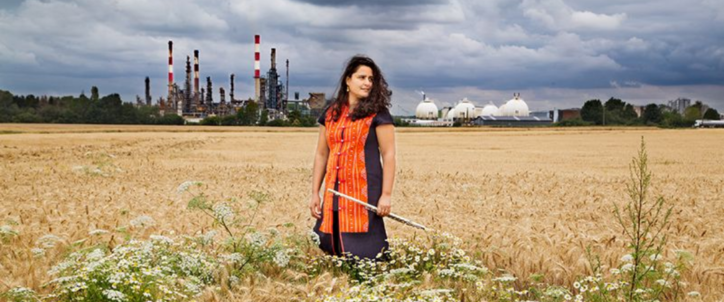 Naïssam Jalal | New album & interview!
Naïssam Jalal has released her much-anticipated double album, Un Autre Monde. It reveals a very personal musical vision, one devoted to life and freedom in its form and its themes.
Naïssam Jalal is an exceptional flautist and composer of Syrian origin, born and raised in the Parisian suburbs in a family with a passion for music. From very early on, she transcended the bounds of European and Arabic classical music, improvised music and jazz, the acuity of hip-hop, the euphoria of funk and the vitality of African traditions with her gift for synthesising different styles and her sensitivity. Her career has been filled with numerous superb releases and prestigious prizes like the Coup de Cœur de l'Académie Charles Cros  (2017) and les Victoires du Jazz (2019). As for the future, in 2021 she will be marking the 10th anniversary of her ensemble Rhythms of Resistance and releasing double album Un Autre Monde, recorded in part with the Orchestre National de Bretagne, and which also includes Rituels de Guérisons, a project recorded with her new quartet.
We spoke to Naïssam Jalal about the new release and more.
Interview
Your new album Un Autre Monde was released on 5th February. The title suggests a desire for change, for escape, and a critique of the state of the world. Can you tell us more about this, why did you choose this title? What did you want to communicate? Is it a call for help, or to action?

Today we have the feeling of reaching the end of a cycle, of an era. Capitalism which has, for two centuries, aimed to generate unlimited profit at the expense of people's lives, is now putting the survival of our species in jeopardy. The increasingly indecent gap between us and the people who hold political and financial power is as exhausting as it is depressing. Our individual freedoms and our social rights are disappearing and, everywhere, protests are flaring up and are being met with violent repression. Too often, the difficulties we have living in a dignified manner engender a fear that allows fascist and xenophobic ideas to take root. We all feel as though we need to imagine a new world. In my music I speak about myself. The decision to call this album Un Autre Monde is simply a choice about being as sincere as possible in expressing what animates me and the things in the world that affect, overwhelm, wound and intoxicate me. It's both a account of my feelings, my emotions, my anxieties and my dreams and a call to collective action. Because there are many people who feel the way I feel.
The double album has a part that was recorded with your quartet, Rhythm of Resistance, and another with the Orchestre National de Bretagne. It must be quite different not playing with your group of ten years on the one hand, and accompanied by a symphony orchestra on the other. Do you have a preference?

It's my first time writing for a symphony orchestra. I had already had opportunities to write arrangements for a four-piece ensemble. I also learned about working with an symphonic orchestra during my many years at the conservatoire. But writing for so many musicians was a real challenge! In my work with the symphony orchestra, I made the choice of involving the quintet. I'm very attached to my quintet, we've been playing together for many years and the closeness and respect that unites us is extremely important when it comes to taking risks with the music, for going beyond ourselves and our limitations. My music is rhythmically very complex and classical musicians don't have the habit of playing and thinking about complicated rhythmic structures. To make things easier, I divided the orchestra into four, which is to say that there are the same number of sections in the orchestra but only a quarter of the musicians, in order to make it lighter on its feet. I spoke to a musicologist about it who told me that, for rhythmical reasons, Bela Bartok made the same decision on a number of occasions. It made me feel ok about my decision. The choice of Zahia Ziouani as the conductor of the symphony was very important. Her involvement and engagement with the project helped to get it over the line and to have the musicians play the music correctly.
As a composer, as well as a flautist, you've worked with styles from jazz to hip hop, via funk music. Who are your artistic inspirations, your musical influences, when it comes to composing? 
I'm influenced by many musical languages. Classical music represents the first pillar of my training, but on discovering improvisation I initially listened to and played a lot of funk and hip hop. Then I went to study in Damascus and Cairo, where I lived for three years. Arab classical music and some traditional Arab music had a strong influence on my musical vocabulary. I'm also very inspired by Mandingue music and more generally by the music of the Sahara and West Africa. The music of occupied Hindustan also has an important place in my musical imagination.
Have you missed being on stage during the pandemic? How are you feeling about getting back out there?

I miss playing live a lot, to put it mildly!  I'm not afraid of getting back on stage, I can't wait!
A big thanks to Naïssam Jalal for answering our questions!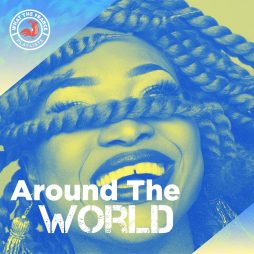 Genres
Around The World
Explore the latest world music hits made in France. Follow us for weekly updates !
Listen now