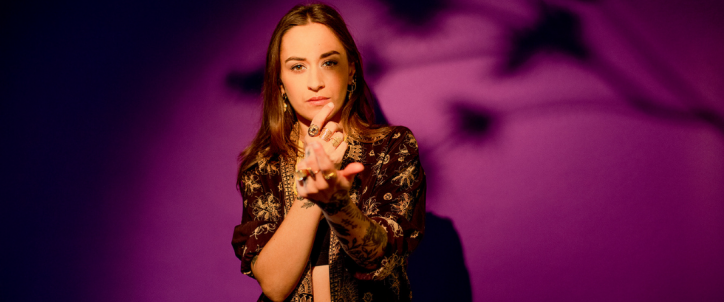 Nina Attal | 'Pieces of Soul'
With her new album Pieces of Soul, 29-year-old French guitarist and singer Nina Attal goes back to the blues, rock and R'n'B she loved growing up.
The award-winning musician has played more than 600 shows in the last few years – including at Elbjazz, Reeperbahn Festival, Aalener Jazztage and the Stimmen Festival – and toured in support of Jamie Callum and Robben Ford, among others. On the new album, she wrote the music, while the lyrics are the work of Gunnar Ellwanger of the group Gunwood. Recording began in the summer of 2020 with the line-up of Nina Attal (guitar, vocals), Corentin Pujol (keys), Bassam Bellman (guitar), Pierre El Grishi (bass) and Matthieu Gramoli (drums).
Nina Attal has always been reluctant to hand production duties over to others – previously trusting only Wha and bassist Chic Jerry Barnes – but on Pieces of Soul she has called on the services of Maxime Lebidois (Beat Assaillant). In his studio, near the Normandy coast, she was able to live out her Californian dream after a period of personal and musical crisis. The guitar was at the centre of her new songs and is interwoven with Attal's luminous voice.
The 13 tracks express Attal's desire for emancipation. The ballad 'Shape My Home' opens the album with a 60s, bluesy-soul vibe and an outro that combines stirring strings and a heroic guitar solo. Folk song 'Daughter' looks at complex family relations, while the jazzy, New Orleans-inspired rhythm of 'Never Been Clear' evokes a past love.
Solitude is the subject of 'Spring Flowers' while on the ballad 'Make A Turn', with its crescendo of guitar and keyboards, looks at change and she sounds reborn as she plays the ferocious riff on 'I Won't Make It'. A new love is celebrated on 'I Can't Stop Loving You', and Attal recalls her first steps as a musician on the 70s funk rock of 'Flames in the Sand'.
Even though Pieces of Soul is about the necessity, sometimes, of restructuring your life, the album gives off an intense sense of joy – the joy of being on stage and sharing your energy and passion with an audience.
Nina Attal will be playing at summer festivals and embarking on a tour in the autumn and winter. Dates will be announced as soon as possible, depending on circumstances.