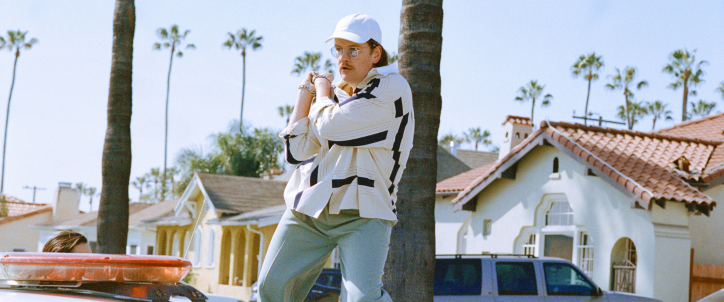 MYD | May Featured Artist & Giveaway
Myd, the delightfully irreverent French DJ, musician and producer, shares debut album Born A Loser via Ed Banger Records / Because Music.


The French musician, born in Lille as Quentin Lepoutre, has an impressive curriculum vitae. Myd has been making music for more than a decade – firstly, as a founding member of the beloved collective Club Cheval, where he helped produce and remix for artists including Kanye West, Dua Lipa, Theophilus London, Brodinski and more.
But here, Myd has crafted an album completely alone – unabashedly showcasing his eccentric flair. Born A Loser is his coming-of-age record and a soundtrack to life's strange delights: a drunken round of jazzercise, a lazy float in the kiddie pool, your weird uncle gyrating under disco lights.
Born a Loser, the title is meant to reflect the fact that Myd has accepted the fact that, just because you make music, it doesn't make you cool. Accepting who he is in his music, imperfections and all, became an integral part of the record, happy to let real instruments take the fore ahead of perfectly produced electronic music.
Let You Speak
"Let You Speak is the joy of feeling free, unbound, ready to travel and run away without looking back. I don't want to see you anymore, hear you anymore and nothing you say will make me change my mind. What a pleasure to be on the loose."
The track is partnered by a rather hilarious music video, featuring Myd and his two reluctant assistants trekking everywhere imaginable on a field-recording excursion. Myd, in typical deadpan fashion, demands excellence from his crew, in settings that range from a meadow, a desert, a chateau, a crocodile pit, a chandelier-lit cave, a helicopter, a battleship and various other bizarre places to record audio. It's a whirlwind of emotions for Myd, and an unfortunate ending for his begrudged assistants.
Moving Men
After meeting through mutual friends, Myd drove the long-coveted metallic convertible sports car from Justice's iconic music video 'Fire' crosstown to Mac's house (without plates or license), where the pair penned 'Moving Men'.
The track is partnered by a hilarious animated video, featuring Myd and Mac as cartoon moving men who are more consumed with smoking weed and goofing around than moving furniture. The video was directed by Alexandre Nart.
When he decided to create his own solo debut album, he wanted it to be fresh and different but also hoped that it would reflect his own personality and style. 'Born a Loser' is a triumph of confidence and passion in wanting to try something new. 
Right from the dynamic opening track, We Are The Light, Myd proves that he's more than a DJ. With his own voice featuring for the first time in his music, it sets the scene for an album that isn't afraid to explore. Whether it's the indie-rock inspired guitar or the wobbly synth sounds, there's more than enough to keep you interested as you let yourself move to the beats.
Ed Banger Records
After recording his All Inclusive EP in 2017, Myd was on the lookout for a label and his prerequisite? A label with a family atmosphere. He ended up being signed to the dance music powerhouse label, Ed Banger, who he calls the most "family style label in France". The label, founded by Pedro Winter (ex manager of Daft Punk) and home of artists such as Justice, Sebastian and Mr. Oizo as well as previously, Cassius and Riton, isn't afraid to have a bit of fun, as seen in the Movin' Men documentary.
Whilst Myd still calls himself a DJ, his path to indie-rock and pop fame is well on it's way and if Born a Loser is anything to go by, being a loser isn't so bad.
GIVEAWAY
Be in with a chance to win 1 x Vinyl Born A Loser
The competition ends on May 31st, 2021 – 8pm AEDT